Joe's Jeans creates exclusive denim line for Macy's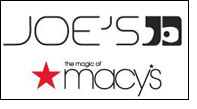 After more than a decade as a premium denim leader, Joe's Jeans Inc. announces the launch of a new brand, else(TM), to be sold exclusively at Macy's. With price points starting at $68, else(TM) was created to reach young women who are looking for a premium denim-like product at a more affordable price.

Macy's has dedicated space in its Impulse departments in 140 stores throughout the U.S. to showcase the else(TM) brand. The new line will also be available at macys.com. The else(TM) product offering, which includes five staple denim fits: skinny, boot cut, cropped, boyfriend and a cuffed short, will be rolling out at Macy's over the next two weeks.

Marc Crossman, President and CEO of Joe's Jeans Inc., commented, "We are thrilled to be partnering with such a distinguished American institution. We look forward to an exciting and expansive business venture and the opportunity to create a unique product offering for the Macy's customer."

The else(TM) target customer is described as between the ages of 18 and 25 years old with a strong sense of self and fashion. Joe Dahan, Creative Director and Founder of Joe's Jeans Inc., oversees the design of else(TM) with a newly created design team working in collaboration with Macy's.

"We are excited to work with Joe's Jeans to continue to bring our customer the latest in denim fashion by an industry leader with a long-standing commitment to fit and quality," said Tim Baxter, Senior Vice President of Macy's Women's Division. Mr. Baxter continued, "else(TM) offers innovative products at an affordable price for our young, fashion-forward customers who will love this brand."

About Joe's Jeans Inc.
Joe's Jeans Inc. designs, produces and sells apparel and apparel-related products to the retail and premium markets under the Joe's(R) brand and related trademarks. In addition, the Company has introduced the else(TM) line for exclusive sale at Macy's.


Joe's Jeans Inc.