Financial capital of India to host InFashion 2012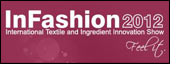 InFashion 2012 will be the second edition of this exclusive show dedicated to showcasing innovations -- in ingredients, products & technology -- in the textiles and fashion apparel industry. It is also the only show in South Asia that focuses on forecasting future trends in the industry.

It will be take place at Bombay Exhibition Centre, Goregaon, Mumbai during March 13-15.

The overwhelming success of InFashion 2011 has encouraged us to organize InFashion 2012 on a bigger scale, with a floor area of over 10,000 sq m, at the largest, permanent, privately built exhibition venue in the city. More than 200 exhibitors, Indian and international, are expected to participate. And over 30,000 visitors are anticipated during the three-day event.

Foreign delegations, entrepreneurs and industry professionals are expected from countries across Asia and the Far East -- China, Taiwan, Hong Kong, Indonesia, Vietnam, Japan, Malaysia, Turkey, Sri Lanka, Pakistan and Bangladesh.

Acknowledged as an emerging global power, India is among the world's fastest growing textile markets. Today, the country's textiles industry is worth over US$ 70 billion. By 2020, it is expected to cross US$ 220 billion.

International textile & apparel manufacturers are tapping India's potential as a cost-effective production base, thanks to its lower raw material & labour costs, and a large pool of trained manpower. International retail brands have increased sourcing of textile products from India. And global players are buying stakes in Indian textile companies.

The textile & garments industry is also a pillar of India's economy. It contributes 14% of the national industrial production, generates 4% of the GDP, provides direct employment to 35 million people, and has a 17% share of the exports.

InFashion brings together players from the entire Indian textile and apparel sector… from textile & garment manufacturers to buying houses, from accessory suppliers to service providers, from fashion designers to wholesalers & distributors.

InFashion 2012 will provide participants & visitors a rare opportunity to
- view the very latest innovations in the field;
- share new technologies & improvements that enhance quality, design, productivity & cost-effectiveness;
- interact with peers;
- listen to industry experts on diverse relevant subjects ;
- explore strategic collaborations & tie-ups with both Indian & foreign players; and
- negotiate directly with manufacturers, product suppliers & service providers.

The show is jointly organized by the Federation of All India Textile Manufacturers Association (FAITMA), and the Images Group that has been closely involved with the fashion & retail industry for over two decades.

Participants will automatically benefit from exciting promotional opportunities like extensive media coverage, editorials in show-specific magazine supplements, web marketing, and direct mailing to 50,000 industry professionals across 25 countries.