Infashion 2012 kicks off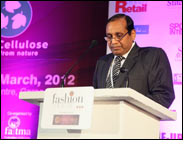 The second edition of Infashion, the international textile and ingredient innovation show, witnessed an exhilarating start with strong participation from stalwarts of the Indian textile industry.

Addressing the inaugural session, Mr. Ramesh Poddar, President, FAITMA and Vice-Chairman & MD, Siyaram Silk Mills, said, "We find that the per capita availability of cloth – which was only around 30 square meters during the years 2000 to 2005 – has now considerably increased to around 44 square metres."

"It is also observed that the textiles purchase per capita in 2009 was approximately Rs 1,754 compared to only Rs 1,027 in the year 2000 – a drastic increase of over 70 percent. This shift in terms of increased purchasing power reflects the positive and result-oriented approach of our industry and the dedication at every level. I am quite confident that consumerism in India will increase manifold over the years and the industry will leverage this opportunity to ensure profitable growth."

Bombay Rayon, Raymond, Morarjee Textiles, Birla Cellulose and Damodar Group, engaged in an invigorating debate, emphasizing on the growth potential of the industry which is expected to multiply four-fold in the coming decade. Further, the panel also highlighted the need to urgently upgrade technology to produce superior and globally competitive products.

The panelists stressed the importance of government support by forming liberal policies for facilitating smooth functioning of domestic and international commerce. The industry captains also higIighted the need for integrated manufacturing and best practices to optimize production, focus on waste reduction and increase profit margins.

Mr. D.R Mehta – President, Textile Association of India said "Going forward, creativity will be an important factor for the success of the textile industry. Innovation and research in fiber is of utmost importance to produce high quality end product. Surat being a manufacturing hub daily produces 35-40 million meters synthetic fabric. This can be further increased through automation, modernization and government support."

The session on 'Textile Policy: Government Ke Saath Hamara Business' involved a discussion on the national textile policy and opportunities presented by the technology upgradation fund schemes. The session gave an overview of the effectiveness of the National Textile Policy and the merits of a favourable excise duty structure and the other measures to overcome the challenges of textile manufacturers. The panelists emphasized the importance of state and center participation which can help fulfill the huge demand and supply gap in the domestic textile market.

Mr Rahul Mehta – President, CMAI further highlighted the need for tax exemptions and tax holidays. "It is important for the industry to keep on creating more and more employment opportunities for the nation. The government will then be more than willing to assistus to meet our goals", he added.

news category
---
Related Categories:
E-News Insight