Profits up at Inditex; will open 480-520 stores this year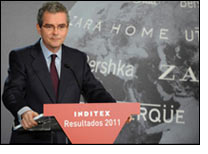 Pablo Isla, Chairman and CEO of Inditex Group presents the financial results for the year 2011. The Inditex Group's net sales (1 February 2011 to 31 January 2012) rose by 10% in 2011 from 2010 to 13.8 billion euros. Net sales increased in all geographic areas (Spain, the rest of Europe, the Americas, Asia and the rest of the world). Net income totalled 1.9 billion euros, an increase of 12% from 2010. Net sales in local currencies rose by 11%, while like-for-like store sales climbed by 4%.

The Group created 9,374 new jobs last year, bringing its workforce to 109,512 employees at the end of 2011.

483 new stores
The company opened 483 stores in 49 markets in 2011, bringing the Group's total number of stores to 5,527 and expanding the Inditex retail footprint in all geographic areas. Highlights of these launches included the first stores – Zara brand in all cases -- in five new markets: Azerbaijan, Taiwan, Australia, South Africa and Peru. The latter three markets represent further progress in the differential retail strategy Inditex applies to markets in the Southern Hemisphere. These collections, customised for southern countries' seasons, drew a warm welcome from shoppers at the new Zara stores in Sydney, Melbourne, Johannesburg and Lima. Following its debut in the Australian market, Inditex further cemented its role as a global fashion retailer with stores on five continents.

Expansion in Asian markets.
Highlights of Inditex's international expansion included 132 openings in China, 30 of which were Zara locations, as Zara passed the 100-store mark in China. Two Inditex concepts, Oysho and Zara Home, disembarked in China in 2011 with 17 and five stores, respectively, helping to bring the total number of Inditex stores there to 275.

Another two stand-out markets in Asia were Japan and South Korea, with 15 and 13 new stores, respectively, including the first Bershka locations in both markets and the first Pull&Bear and Stradivariusstores to land in South Korea. Three new Zara stores in India (in Mumbai, Pune and Bangalore) and the aforementioned launch in Taiwan (two stores in Taipei) round out highlights of expansion in Asia.