BIBA launches its first ever flagship store in Ahmedabad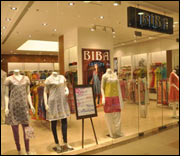 BIBA, a name synonymous with new-age ethnic wear, announced opening of its flagship stores in the country. Ahmedabad has been chosen as the site for its first flagship store. Situated at Alphaone mall, one of the city's most popular hangouts, the flagship store aims to enhance customer experience by providing extensive dedicated space for each of its product categories – MnM, SKD, Biba Girls and Unstitched fabrics. Also, customers will experience a wider number of products and choice in styles at this store.

The flagship store, spread over 2500 sq ft, is stocked with the latest collections of BIBA for Spring Summer 2012. The store houses a wide variety of SKD's (Salwar Kameez Dupatta), Mix n Match Kurtas, leggings and BIBA Girls, a dedicated segment catering to 2-12 year old girls.

Commenting on the launch, Mr. Siddhartha Bindra, Managing Director, BIBA said, "We are delighted that our first flagship store in the country is opening in Ahmedabad. Infact, Gujarat as a region is doing extremely well for us and BIBA has managed to create a mark for itself in the ethnic wear category, owing to its rich design and style". "With our flagship store, we hope to enhance our customers' shopping experience and showcase ALL our product categories to the fullest, especially unstitched fabrics and Biba Girls", he further added.

The new BIBA 'MnM' range available at the store includes four special collections - 'Silver Moon', 'Nocturnal Oasis', 'Ibiza Holiday' and 'Bohemian Angels'. Taking inspiration from moonlight on a classic spring summer night, the 'Silver Moon' range by BIBA emulates the serenity and purity of whites. On the other hand, the 'Nocturnal Oasis' collection by BIBA, offers a fusion of batik prints from Indonesia and geometric motifs in bright neon colors. The chic cuts and summer inspired surface treatments on cotton and cotton blends, gives this collection a unique Biba signature.

'Ibiza Holiday' range by BIBA evokes the fun mood of summer parties in Europe. The vibrant colour kaleidoscope and the exciting cuts and prints work to uplift your mood.
BIBA's 'Bohemian Angels' embraces the nostalgic feel of the 70's retro look in its fusion prints and bohemian look. The modern fit and flare silhouettes communicate freshness and pairing them with skinny jeans, anklets or crops will complete the summer look, perfectly.

Available in breathable 100% premium cottons & cotton blends, all collections exhibit the quintessential BIBA grace.

The SKD collection by BIBA includes a wide range of ensembles varying from long and short Kurtas, A- lines, Kalidars, Anarkalis and straight cuts in impeccable prints, embroidery and knitted designs. Be it crinkled kurtas with buttons and hand embroidery, Kalidar Kurtas with embroidered yokes or printed kurtas with a contrast knit, every piece has an inspiration behind it and creates a perfect summer style statement. This year, the collection also has a lot ofexperimentation with bottoms and dupattas.