UniFirst goes eco-friendly, uses 'green' detergents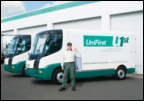 In its ongoing commitment to environmental sustainability, UniFirst Corporation, a national leader in the uniform rental industry, decided in 2011 to exclusively utilize only the latest generation "green" (environmentally-friendly) cleaning detergents in all its industrial laundry operations throughout the U.S. and Canada.

These "green" detergents, which are biodegradable and made from renewable resources, are free of phosphates, nonylphenol ethoxylate (NPE), and ethylene diamine tetra-acetic acid (EDTA), which has been found to alter the oxygen and metallic levels naturally found in the environment.

Use of the environmentally friendly detergents are proving to be a win-win scenario for all concerned, since their formulation continues to allow UniFirst to provide hygienically clean, image-enhancing work apparel to heavy- and low-soiling occupations such as auto repair, corporate management, healthcare services, oil field drilling, and more--but with virtually no environmental impact.

"We're committed to using only sustainable chemistries in all of our laundering facilities and will continue to pursue 'greener' practices wherever possible in our operations," said UniFirst President and CEO Ron Croatti. "Our ongoing goal is to be an environmental steward in each of the communities we serve throughout North America."

The "green" detergents used by UniFirst are concentrated and, as such, require less water and energy use during laundering cycles, thereby further conserving environmental resources. Furthermore, unlike home detergents that can sacrifice cleanliness for "fresh smelling" clothing, the detergents used by UniFirst are specially formulated with a higher concentration of active cleaning ingredients for maximum soil and stain removal and minimal wear on fabrics.

UniFirst's concerted conservational efforts in the laundering and processing of work uniforms dates to 1997 when it joined the Laundry Environment Stewardship Program (Laundry ESP), an industry initiative that resulted in 12.5 percent reductions in water use and 11.8 percent reductions in energy use.

Adoption of "green" detergents by UniFirst is just the latest corporate initiative in keeping with its uniform apparel sustainability objectives. Croatti noted that in addition to now offering customer workwear made from 100 percent recycled materials, his company also routinely recycles fabric scraps from its uniform manufacturing operations, as well as any other appropriate waste, such as wood pallets, paper products, and fluorescent light bulbs.

UniFirst's sustainability practices also extend to its customer facility cleanliness products, which include PVC-free floor mats, water and chemical saving microfiber mops, biodegradable and "green certified" hand soaps, and recycled paper items. In fact, all UniFirst towel and tissue products are Green Seal and Eco-Logo certified and are manufactured from paper that is 100 percent recycled--thereby helping customers to qualify for environmental certification by the U.S. Green Building Council (USGBC) and the Canada Green Building Council (CaGBC).