Mothercare unveils new strategy for transformation, growth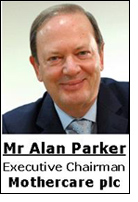 Mothercare plc, with 311 stores in the UK and 1,028 stores overseas, announces its fourth quarter trading update along with a new strategy for Transformation and Growth supported by new financing arrangements.

In the fourth quarter worldwide network sales grew by 4.5%, driven by an 18.0% growth in International retail sales. During the year a net 134 stores were opened outside the UK; 27 in the Middle East, 20 in Europe, 76 in Asia-Pacific and 11 in Latin America following our recent launch. We now have 1,028 stores in 58 countries outside the UK.

In the UK, as expected, like-for-like sales were down 8.2% in the quarter, reflecting our decision to clear excess Christmas stock last year. Inventory levels remain tightly controlled and UK stocks are 13.0% lower than last year. This disciplined approach has resulted in an improved UK gross margin performance in the final quarter.

Group underlying profit before tax for the full year is expected to be in line with expectations.

Alan Parker, Executive Chairman said:
"Since November, a significant amount of progress has been made across the business. We launched a structural and operational review, appointed a new CEO, closed a significant number of underperforming stores and commenced a consultation programme to streamline our head office function. We have also introduced immediate initiatives aimed at improving value and service for our customers.

New Strategy
In November we announced a structural and operational review of the size and scope of our business. The review is nearing completion and the resulting strategy will deliver in the next three years a transformation of the UK business, together with increased International growth. Our Transformation and Growth strategy to March 2015 will be presented in full by Simon Calver, our new CEO, at the Preliminary results announcement on 24 May.

The four cornerstones of the Transformation and Growth strategy are as follows:

1. Lean retail;
Reduction of UK central costs and better buying to be among the best in class.

2. Restore UK profitability;
Focus on 200 profitable stores to offer mothers improved value, competitive product ranges, and an enhanced customer service experience.

3. Accelerate International expansion;
Further expansion of International, with more store openings in both new and existing countries.

4. Multi-channel worldwide;
Launch combined online and in-store customer options with new website in the UK (on track for launch in H1 FY13) and 30 new overseas websites.

Two important elements of the Transformation and Growth strategy have been finalised and more detail is provided below:

i) Cost reduction programme
We are rightsizing our overheads to fit the new smaller UK operating base. Cost reduction has already commenced and we have identified savings in non-store overhead costs of at least £20m on an annualised basis, by March 2015. We have commenced consultation to reduce UK head office payroll costs by 16%, which will result in a more simplified and efficient central structure.