Puma is official racewear sponsor for RallyCross team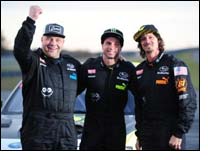 Subaru of America Inc. has announced the official sponsorship of sportslifestyle brand Puma for the Subaru Puma RallyCross Team. As part of the multi-year sponsorship agreement with Subaru, Puma becomes the official supplier of team and racewear and an exclusive licensing partner to the team for footwear and apparel. As part of the team sponsorship Puma has developed custom graphics for the three Subaru WRX STI program cars.

The Subaru Puma RallyCross Team is the factory backed rally team for Subaru of America, Inc., managed by Subaru technical partner Vermont SportsCar. The all-star team consists of BMX legend and professional Rally athlete Dave Mirra; Professional skateboarder Bucky Lasek; and three-time European RallyCross champion Sverre Isachsen. The team will be competing in the six-round Global RallyCross Championship (GRC) series.

"I am stoked to have Sverre and Bucky join the team," said rally veteran Dave Mirra "Sverre has been an unstoppable force in European rallycross and will definitely be an asset to the team with his experience and talent. I have known Bucky for years on the X Games circuit, it is great to see another extreme athlete cross over to rallycross; his enthusiasm for racing and fearlessness should be great to watch."

Sverre Isachsen, aka The Viking Warrior, has been a motorsports addict his whole life. After competing in local autocross and rallycross events in his native Norway, he set his sights on the European RallyCross Championship. After a strong debut in 2002 he dominated the series and was crowned its champion in 2009, 2010 and 2011.

New to the team, 12 time X Games Skateboarding Vert Medalist Bucky Lasek, is no stranger to the world of automotive racing. Bucky has competed in the Mustang Challenge series as well as a handful of Porsche Cup races. He began intensive rally training at Dirtfish Rally School where he honed his all-wheel drive skills behind the wheel of a Subaru WRX STI.

The team will compete in 2012 Subaru WRX STI rally cars that have a fresh new look for rallycross featuring a unique Zombie Cat graphic. Puma brings a fun and colorful design aesthetic that, when mixed with the adrenaline of the sport, is sure to excite drivers, fans, and spectators alike. Mirra, Lasek, and Isachsen will sport official fireproof Puma racing suits emblazoned with Zombie Cat graphics, and a new performance-racing shoe called the PRX Subaru. Puma will be releasing lifestyle footwear, tees, and accessories inspired by the team and rally cars beginning in June.

"The sportlifestyle that Puma represents is a great fit for Subaru, owners, and motorsport fans", said Dean Evans, Chief Marketing Officer for Subaru of America, Inc. "We are pleased to align with another global brand, and one that will enhance the image and awareness of our rallycross team."

"Subaru builds incredible sports performance vehicles and in working with them, we were able to apply our creative design approach with the graphics and color application," said Antonio Bertone, Chief Marketing Officer for Puma. "We are thrilled to be working with Subaru, they have a long, successful motorsports history that matches well with our brand."