Timeless Thrills unveils high-end streetwear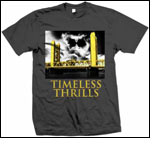 Timeless Thrills Clothing – a Sacramento-based apparel firm that launched in November and specializes in high-end streetwear at an exclusive availability – will introduce a new product line June 9 with an event at the Momo Lounge in Sacramento. The new line will be for sale June 8 at the Getta Clue store in town, plus online.

"I am releasing a collection that I feel will be a landmark in Sacramento clothing and eventually beyond," said Tyler Wichmann, owner of Timeless Thrills Clothing. "The clothes were inspired by the city of Sacramento and will feature stylized photos taken in the city. I am calling it the Goldstate Collection." It's just the second line in the young life of Timeless Thrills.

The Goldstate Collection will consist of four T-shirts, three tank tops and two snapback hats. The tees and tanks will be made with a custom-picked, 100 percent cotton shirt, custom re-label and custom tags. The hats will feature a puff version of the Timeless Thrills hourglass logo, and stylish embroidery on the back that says "ST" ("Stay Timeless") and "CT" (Catch Thrills").

Mr. Wichmann said he decided to start Timeless Thrills Clothing as a reaction to an industry he saw as "repetitive and drenched in inessential design." He added, "The streetwear clothing industry is huge, with many companies out there, but they're all doing basically the same thing. Guys were going out and seeing other people wearing what they were wearing."

So, the mission of Timeless Thrills Clothing was simple: Make a truly high-end line of streetwear, but don't mass-produce it. "Not long ago we released some custom-embroidered crewneck fleece sweatshirts," Wichmann said. "We only made 28 of them. Our customers went wild over that. They were happy with the design and now they're anxious to see what's next."

Wichmann said his clothing has "that streetwear look and feel" but is made with the best fabrics and most professional accessories. "It's the quality of the product and attention to detail that make people fall in love with your brand and want to remain loyal," he said. "It becomes more than just clothing. It's a lifestyle. You're not just wearing the clothes, you're living them."

Wichmann explained that for some companies the expression "high-end" is tossed around casually, but for him it's a commitment to quality. Timeless Thrills applies custom re-label prints inside each shirt, custom "flip" hem tags on the lower left waist, custom print on the sleeves, waist and upper neck. Then, each item is properly straightened, folded, cleaned and polybagged.

In its short life, Timeless Thrills Clothing has introduced a collection that includes two hoodies, five men's shirts, three women's shirts, beanies and snapback hats. It also released two "limited release" items – the aforementioned crewnecks and a black-and-orange themed "mini collection" consisting of a hat and shirt with colors that pay homage to the San FranciscoGiants.