Apparel Sourcing to discuss current issues of retailers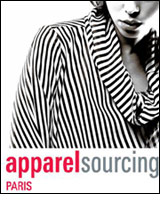 The current socio-economic situation concerns players in the clothing sector with crucial questions such as: the downturn in consumption observed pretty much everywhere in Europe, price increases for procurement and the rise in costs for wages and salaries.

ApparelSourcing will be held on September 17-20 2012.

Against this background, buyers and decision-makers need to adapt procurement policy in order to reduce costs and reorganize the buying schedule. Apparel Sourcing will provide the solution with a targeted range for diverse international sourcing.

The next exhibition will welcome a variety of ready-to-wear and accessories manufacturers from the main suppliers of clothing such as, Turkey, China, Hong Kong, Belgium, Taiwan, India, Portugal, Bangladesh and an innovation from Japan. This offer, which is unrivalled in Europe, represents an opportunity for buyers to:

• organise their order schedule: Asia, with new players like Vietnam and Bangladesh, with respective increases of 11.6% and 5.6%* in exports to the European Union, remains indispensable in the long term while Europe and Turkey provide security for ad hoc orders for replenishing and updating stocks. Their proximity also satisfies those who are concerned about strong increases in transport costs.
• Make up lines with a variety of products at a competitive price for menswear, womenswear and children's wear. The accessories range will expand with new specialised exhibitors.
• Expand their lists of international suppliers, one of the keys to reorganising procurement structure. Furthermore, according to recent surveys, conducted in 2012 by the French Fashion Institute (Institut Français de la Mode), 68% of retailers have changed their sourcing arrangements in order to cope with the rise in costs for wages and salaries already mentioned.

Michael Scherpe, President of Messe Frankfurt France adds "We are expanding the offer and are following developments on the market very closely in order to meet buyers' expectations".

Summary of market and strategy interview with Serap Kotabas, Commercial Director, Theorie label, specialising in men's outer wear Men's ready-to-wear is experiencing strong growth thanks to the improved offer and new male attitudes concerning fashion. The Turkish manufacturer Theorie, a specialist for men's outer wear in the mid-range to high-end segment, attended ApparelSourcing for the first time in February and will be returning in September following the initial success.

Founded in 1979 in Istanbul, Theorie specialised from the outset in jackets and coats for men. At present, Theorie is well established in Turkey with 22 shops their own label but it is also sold in department stores.

They export primarily to the United Kingdom and Italy We spoke with Ms Serap Kotabas, about the next exhibition and the company's strategy for development in these somewhat difficult times: "We had a very good show in February thanks to the quality of the contacts we established and the orders commissioned at the trade fair.