Rider's Collection by Cyfac International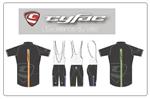 Cyfac International proudly announces the launch of its new Rider's Collection Custom Clothing program. Starting June 15th, Cyfac will offer custom clothing matched to a client's bike. Featuring a Pro Level cycling kit, 100% handmade in France, The Rider's Collection can be personalized to match the color of your very own Cyfac bicycle and carries the same culture of quality and excellence as your Cyfac frame.
The Collection features a stylish design that built off of Cyfac's soon to-launch, COLLECTION line that features the Cyfac colors. It exudes European class and cycling elegance and plays the perfect compliment to a rider's beautifully-crafted Cyfac frame.
Each piece showcases a custom color zone that can be adapted to the color code of your bicycle to create a design unique to the rider. An added panel allows for the rider's name or initials for further personalization.
Cyfac International was founded in 1982. It cultivates its split personality of old-world artisan craftsmanship and avant-garde technology to continue its evolution as the leading builder of custom high-end bicycle frames. Located in France's beautiful Loire Valley, Cyfac builds all of its frames in-house and focuses on custom and personalized cycling solutions for top professionals and amateur enthusiasts alike.
Cyfac International