Invista's Cordura fabric features in Timberland apparel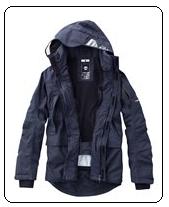 Invista's CORDURA brand fabric, popular for its long-lasting durability, is featured in new Timberland apparel. Aimed to provide everyday wearers with water-resistant and enduring clothing solutions, Timberland chose CORDURA brand fabric for the Men's Water Resistant Tilt Denim Jeans, Men's Cargo Canvas Short and Men's Waterproof Marine Jacket to provide comfort and flexibility without sacrificing durability and style.

"Customers are always looking for durable solutions—rain or shine," said Cindy McNaull, global CORDURA brand and marketing director. "Timberland has created some innovative designs using CORDURA fabrics that help the wearer enjoy unexpected weather, without sacrificing style, durability, or comfort."

CORDURA brand fabrics are available in the following new Timberland products:
Men's Water Resistant Tilt Denim Jeans: With a water-repellent treatment, these jeans can be worn rain or shine. The slim fit design features traditional five-pocket styling and a zip fly. The jeans are made with comfortably durable CORDURA Denim fabric and are based on an intimate blend of cotton and Invista's T420 high tenacity nylon 6,6 fiber. Jeans made with CORDURA Denim fabric are exceptionally durable without compromising on comfort and style, and when tested opposite similar weight traditional 100 percent cotton denim, are four times more abrasion resistant.
Men's Cargo Canvas Short: Perfect for everyday, warm-weather outdoor activities, the cargo short offers a relaxed fit designed to provide comfort and flexibility to the wearer. Plenty of storage is available in the cargo pockets and single-pleated welt back pockets. Made with CORDURA NYCO fabric that is designed for stylish durability and delivers 4 times greater abrasion resistance versus comparable weight 100 percent cotton, the Men's Cargo Canvas short is ready to take on some serious activity, without sacrificing comfort and style.
Men's Waterproof Marine Jacket: Laminated with 20,000 mm waterproof coating, the marine jacket is designed to keep the wearer dry and even features storm covers at the center placket and pockets. The jacket also dons a fully adjustable, packable hood with extra peripheral vision panels.
Timberland selected CORDURA Naturalle fabric for this product. One of the brand's most recent fabric innovations, CORDURA Naturalle fabric provides a matte appearance similar to the look and feel of cotton while still incorporating the exceptional abrasion, tensile, and tear strength of high tenacity nylon 6,6.
Invista