Ethiopian PM invites Chinese investment in apparel sector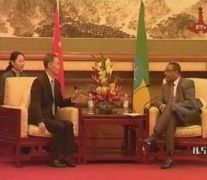 Ethiopian Prime Minister Hailemariam Desalegn has extended an invitation to the Chinese entrepreneurs to invest in the apparel manufacturing sector of the African country, located in east central region known as 'Horn of Africa'.
In a meeting with the representatives of China's textile sector, the Ethiopian PM said that the Government will provide full support to the foreign investors and assured profits for them.
The collaboration talks between the two nations were held during the Ethiopian PM's three-day official visit to China, where he also met with the Chinese President Xi Jinping.
There are around 90 textile units that are currently operational in Ethiopia.
Earlier this month, Ethiopian Ministry of Science and Technology signed an agreement with academic institutions for carrying out research in textile innovation and capacity enhancement.
Fibre2fashion News Desk - India