Geewiz Apparel unveils 'Seduce' innerwear for men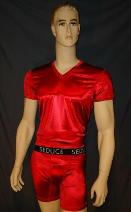 Geewiz Apparel launches SEDUCE, a range of underwear sets for men. Men's underwear is almost always sold separately - undershirts and underpants. SEDUCE offers matching two-piece sets of designer underwear that will make every man feel confident and comfortable underneath his clothes.
"SEDUCE's objective is to redefine the male perspective and perception of what men's underwear should really look and feel like," says CEO and designer Gary Williams. "Our underwear caters to the everyday working man... the self-conscious man... the confident man...."
The SEDUCE range aims to make men feel comfortable all day as they go about their daily routine while being aware that - underneath their business suits or work clothes - they look and feel attractive.
These underwear sets will likely be popular buys for women wanting to add a little spice to their partner's bedroom wear. However, men will also want to buy them for themselves for their comfort and the confidence they get from wearing them. SEDUCE also offers pajamas and will soon have black and purple T-shirts at affordable prices
Geewiz Apparel