Pepe Jeans unveils classy line of feminine apparel designs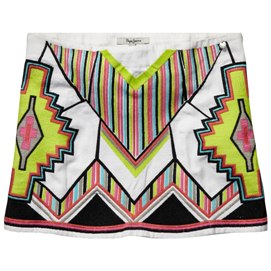 It started of as the cool girl's fancy dress of choice to becoming summers most vibrant trend, Aztec prints, Tribal tones and Mayan mystery combine to bring one the hottest summer trend yet; This astonishing collection by Pepe Jeans London is the perfect trend for the summers; whether it's a Moroccan holiday or a weekend outdoors, Tribal prints are a great addition to have one looking and feeling the part of a global fashion era.
This collection from Pepe Jeans London has gorgeous shades that appeal to the Indian sensibility and recent western fascination with colours that pop like warm, earthy tones along with accents of electric blue. Embroideries are geometric and use of tapes on a solid base adds an appealing touch to the garments
The Pepe Jeans Spring Summer '14 Collection introduces a contemporary, chic and tasteful collection of high fashion, feminine and voguish designs, as well as international styles.
About Pepe Jeans London:
Pepe Jeans London was established in the chic Portobello Road area of London in 1973. From its origins as a tiny market stall to more than half a US $billion dollar denim and casual wear brand, Pepe has transformed itself to one of the fastest growing casual wear labels in Europe. The brand today has presence in more than 80 countries across the world.
Pepe Jeans