Alvanon launches program for technical fashion restoration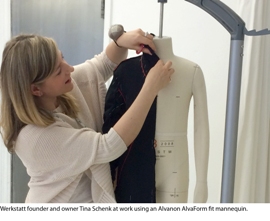 Alvanon Inc. has launched a fashion industry support program called the Fashion Fit Movement designed to help restore and revitalize technical fashion skills and fashion manufacturing in New York City, Europe and Hong Kong.
As part of its global fashion fit initiative, Alvanon will donate its world class technical fit tools and consultancy services to selected apparel design and manufacturing businesses that are rebuilding their local production capabilities, and to industry associations that support local production efforts.
Alvanon's first donation was made to the influential Council of Fashion Designers of America's Fashion Manufacturing Initiative (FMI), an investment fund that offers matching financial grants to select New York city fashion manufacturing businesses.
The donation consisted of Alvanon's AlvaForm technical fit mannequins and AlvaBlock pattern templates, which FMI has awarded to New York city-based pattern service Werkstatt.
Alvanon