Wrangler debuts 'Silver Shield' denim jeans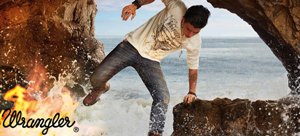 Wrangler, the original outdoor denim brand unveils its new 'Silver Shield' denim. Silver's ability to prevent bacteria is age old.
This new technology will protect Wrangler denims from odor causing bacteria making it an ideal pick for long rides. Silver Shield denim is powered by N9 Pure Silver which protects it against the bacteria and other microbes that cause odor.
Wrangler's Silver Shield denim appeals to riders since it is safe on skin and maintains long lasting hygiene and freshness.
Ride this season with the all new range of the Wrangler's stylish Silver Shield Denim made for the Journeys that never end.
Wrangler