Rocknshop unveils Stacey's spring line 'Alice + Olivia'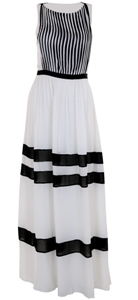 Rocknshop.com & Kitsch stores in Delhi to launch Stacey Bendet's Spring 2014 collection for alice + olivia which is at the crossroads of prep-meets-pretty. It's the "American girl" - carefree collegiate with a romantic twist.
White is the new black, with the collection built around sophisticated neutrals accented by pops of pastel. Pink, aqua, yellow and silver complement nude, bone, black and white.
Key pieces play on proportion and include the mini skirt, slip dress, crop top, little white suit, and an updated blazer.
From beaded jackets slung over collared shirts to modern collarless blazers paired with sexy lace short-shorts, ball gown skirts for daytime and crop tops for all the time, spring is about mixing prep with pretty in a fresh way.
ROCKNSHOP.com