Celio partners FIFA for official licensed merchandise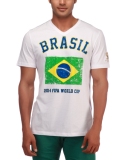 Keeping up its European legacy, Celio, the premium Menswear fashion brand, has partnered with FIFA Brazil 2014, to capture the seasons frenzy and rapturous celebrations. The biggest tournament in global sport begins this June, 2014 in the natural spectacle of Brazil.
To observe the zeal of this sporting event and connect the Indian football patrons to their passion, Celio has entered into an exclusive licensing agreement with Global Brands Group the master licensee of the FIFA brand globally and has official rights to manufacturing & retail of official FIFA branded merchandise across India.
The fever of FIFA is, reflected in the vibrant colours and embroidered motifs, while the attention to detail and elegant styling keeps the spirit of the game alive much after the frenzy ends. Encourage your favorite team by choosing your color among 11 contesting countries. Become the perfect supporter for a moment of shared pleasure by purchasing officially licensed Celio FIFA T-shirts and Polo Shirts.
The FIFA Official merchandise is an extension of the brand's Spring Summer 2014 collection and aims to connect fans around the world to FIFA's rich heritage reflecting the dynamism of football since 1904.
Celio