Triumph checks in with sensuous Body Make-Up lingerie line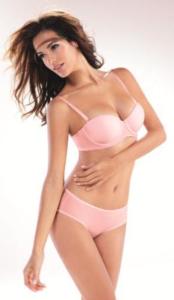 A sensuously modern and ever so mysterious 'new kind of nude' has hit the streets with the launch of Triumph's exciting Body Make-Up collection, the first lingerie of its kind offering similar benefits to the favourite make-up and the enticing visual effect of wearing nothing at all!
Inspired by the latest make-up trends this Spring Summer, the new collection injects a fun, feminine and cool flirty element to the lingerie assortment. From Soft Blush, Cappuccino or New Nude, choose the colour that fits best and experience a liberating 'barely there' feel that instantly puts the wearer in tune with their body and lets them radiate in their favorite fashion.
The innovative new range is made with intelligent fabric containing LYCRA XTRA FINE fiber which provides the wearer with a unique blend of style, comfort and extreme weightlessness.
As it gently caresses the body's natural curves, the high stretch and recovery material offers an energy-evoking freedom of movement and an uplifting second-skin feel that the wearer will just adore. The end result is a natural, head-turning, flawless finish that women would normally only expect from their best make-up base.
Triumph