Madame infuses colorful candy shades to 'Monsoon' range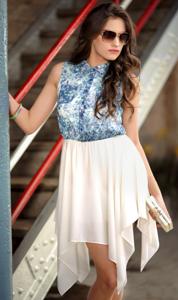 Do not let the dull monsoons dampen the style sense. It's time to freshen up the wardrobe with Madame's Monsoon 2014 collection.
The collection looks refreshing and soothing and comes in a range of shades from light pastels to colourful candy shades to add a burst of energy and keep one cool at the same time. These colour combinations are a perfect trend this season and a total must have in the closet.
Showcasing a range of styles, from light and breezy to contemporary classics, Madame's Monsoon collection ranges from ankle length pants and shorts to jump suits and knee length dresses.
The whole collection is designed in inspiration from naturist themes like the zebra and tiger skin prints; also including pastel monochromes and florals. The fabrics used vary from pure cottons to viscose and acrylic that helps one stay cool in the humid rainy season.
Madame