Reebok unveils women's trendy workout range 'Studio'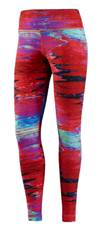 Add a little zing and spunk to workout wardrobe with the new range from Reebok India's Studio collection. Featuring uniquely styled apparel and footwear, the new range is focused on popular studio activities such as dance, aerobics and yoga. Designed especially for women consumers, this range offers attractive new prints and designs in apparels.

While the footwear is designed especially for dance fitness workouts such as Zumba and Masala Bhangra, the in-studio socks and slippers make activities such as Yoga more comfortable.

The Studio category is promoted in the country by fitness enthusiast and Reebok's women fitness ambassador – Nargis Fakhri, who has been seen doing sassy moves in the fun and quirky apparel range for the brands most recent campaign – 'Live with Fire'.

Dance
Taking inspiration from Latin Dance, the Reebok Dance collection includes cutting edge silhouettes with a heavy lifestyle influence. Designed to enhance dance workouts, the collection allows women to let loose, have fun and celebrate with one another without sacrificing the all-important fitness elements. The collection brings to life the unique style statement of every dancer. The endless layering and mixing/matching possibilities allows women dancers to move in style while being creative with their dancing gear.

In addition, the Dance URTEMPO shoe that has been designed in collaboration with Reebok's international dance instructors, provides ultimate stability and comfort and is especially engineered for dance. Equipped with TURNZONE technology which allows for smoother spins and turns, the shoe is the perfect choice for all dancers. The DANCE URTEMPO feature is equipped with asymmetrical centre line flex grooves that respond to a dancer's feet, and the mid-cut design adds stability and support during intense movement.

The thought of dancing in denim cargos seems uncomfortable, but the unique Reebok Dance Denim Cargos with French terry fabrication allow you to dance and move comfortably, while also looking fashionable and chic.

Aerobics
The Reebok Aerobics collection features athletic, collegiate inspired silhouettes with an edge that celebrate 1989, the anniversary of Reebok Step. The collection, which features bigger and bolder graphics ensuring a stand out look in class, has been designed to give women the ability to individualize their looks and allow them to express themselves while working out.

Women can now spruce up their aerobics look with the all new Woven bomber jacket from the aerobics collection; the ultimate wardrobe addition when it comes to comfort and style. This fashion forward bomber features stylish details including raglan sleeves and ribbing at the cuffs and hem ensuring a stylish look without ever bunching or digging. Combining fashion with functionality, snaps at the centre front offer a secure fit, and side welt pockets keep your belongings secure.