Galleria Intima 2014 sees two-fold rise in exhibitors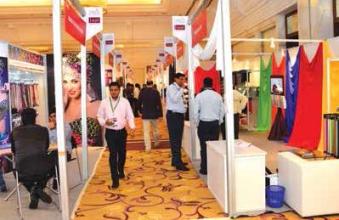 The 2014 edition of Galleria Intima 2014, the two-day trade show which connects the whole supply chain of intimates witnessed exhibitor numbers swelling almost two-fold to 60 from 32 in the first year. Correspondingly, the number of brand representatives visiting Galleria Intima 2014 went up to 855 from 243 in the first year.

Galleria Intima 2014 – India's largest sourcing fair for intimate apparel manufacturers was held from 18-19 August, 2014 in Goa and was hosted by the Intimate Apparel Association of India (IAAI).

Riding high on the success of the last two editions, Galleria Intima 2014 scaled new heights with participation from 15 countries, including China, Thailand, France, Italy, Bangladesh, Turkey, USA and Austria to name a few.

The show also saw an encouraging participation of exhibitors from various product categories. Textiles, fibres and laces topped the charts with around 23 companies exhibiting their best lines, followed by 15 brands showcasing accessories like hooks and elastics, bra strap adjusters etc.

Technology too was at its best, with machineries and innovations on display from leading solution providers.

Two days of the event also saw some intensive workshops and seminars with the 'Brains behind Businesses' come on a common platform analysing trends, sharing crucial data, updating on technological advancements and forecasting global markets

A pan-India report on 'Consumerism in the Intimate Wear Segment' from Wazir Advisors, the knowledge partners for the event, presented a consumer centric report on the Indian Intimate Wear industry, with an in depth analysis on the 'Changing Face of Indian Intimate Wear Consumer- From Basics to Function, Fashion & Fun.'

The theme presentation was focused on the new age woman consumer and their lingerie buying behaviours and patterns. The purpose of this report was to help brands & manufacturers evolve by understanding their consumers. The report examined experiences of new age woman in buying intimate wear and their expectations in terms of product as well as retail environment.

INVISTA, owner of the LYCRA fibre brand and one of the world's largest integrated producers of fibres and polymers, commenced the sequence of seminars through an exclusive presentation on yet another innovative technology in bra moulding from the house of INVISTA, the EASYSET LYCRA Fibre, a product that reduces the heat exposure required to stabilize INVISTA's innovative technology.

The seminar also revealed the exciting new LYCRA MOVES YOU campaign, a new brand platform aimed at creating awareness about the fibre as also the new improved way of positioning the brand to the market at all the levels of value chain, from mill partners to the consumer.

Day 1 was also witness to an edifying session on the game changers in fashion trends presented by David Landart, South Asia Sales Director for Groupe Carlin.