Athletes to feel 'like a rocket' in LZR RACER suit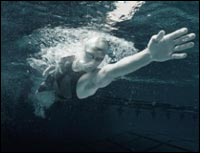 To celebrate its 80th anniversary, Speedo, the world's leading swimwear brand, launched the new SPEEDO LZR RACER, which independent testing has shown to be the world's fastest swimsuit.

Speedo has harnessed the expertise of NASA and a number of international research institutes to create a faster suit which has 10% less passive drag* than Speedo's FASTSKIN FSII launched in 2004 and 5% less passive drag* than Speedo's FASTSKIN FS-PRO, which was launched in March 2007 and has seen swimmers break 21 World Records as a result.

Made from an ultra lightweight, low drag, water repellent, and fast-drying fabric unique to Speedo called LZR PULSE, the LZR RACER is the world's first fully bonded swimsuit that is ultrasonically welded which gives the effect of no seams at all. Ultra low drag LZR panels are embedded into the base fabric to create a Hydro Form Compression System helping to compress the entire swimmer's body into a more streamlined shape and enabling them to cut through the water with more power and agility.

"When I hit the water, I feel like a rocket," said Michael Phelps, holder of six World Records, who has been involved in the suit's development. Phelps will be sporting the LZR RACER as he sets out to achieve a record-setting eight gold medals later this year. "I can't wait to race in it – this is going to take the sport of swimming to a new level."

His comments, echoed by other elite swimmers, are gratifying for Speedo's researchand development team, Aqualab, who have spent more than three years in intensive research and development to create their most hydro-dynamically advanced swimsuit to date.

Speedo scanned the bodies of more than 400 elite swimmers and held technical tests involving more than 100 different fabrics and suit designs in the world's leading flume and test centers, including the NASA Langley Research Center, the Australian Institute of Sport (AIS) and Otago University in New Zealand. Speedo also utilized Computational Fluid Dynamics (CFD) software from ANSYS, Inc., whose technology is also used in F1 motor racing and America's Cup yachting.

The result is an engineered swimsuit whose 3D anatomical shape has a Core Stabilizer with a corset-like grip to support and hold the swimmer so they can maintain the best body position in the water for longer without losing freedom or flexibility of movement.