Healthy swimsuit attitude among women over forty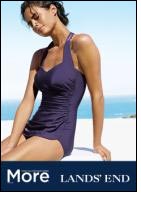 Move over Millennials, the most confident beauties at the beach this season may be over the age of 40.

A reader panel survey of more than 1,400 women over the age of 40 conducted by More magazine and Lands' End found nearly half (47 percent) of respondents have gained swimsuit confidence with age, admitting they feel most confident in a swimsuit since turning 40-years-old.

Healthy swimsuit attitudes are further echoed with nearly all (95 percent) participants stating women over 40 can truly look and feel fantastic in a swimsuit.

"Forty-something body confidence is in," says Regina Haymes, Fashion Director of More magazine. "These results reconfirmed what we already know about our readers these are unquestionably poised, self-assured women who are confident about who they are."

While fewer than 10 percent fully embrace wearing a swimsuit, 60 percent of survey respondents stated they really don't mind it and deal with it in stride.

Seventy-one percent of those surveyed have learned the key to confidently wearing a swimsuit is to maximize the good parts and minimize the rest.

"We are not surprised women are confidently embracing just how great they can look at any age while wearing a swimsuit," said Tara Ellef, senior vice president of merchandising, Lands' End.

"While swimsuit assurance may come with age, it may also result from over twenty years of swimsuit shopping experience.

We've found over time women come to better understand which swimsuit styles and fits will best flatter their body shape."

Swimsuits to Fit and Flatter:
For almost nine out of ten survey respondents (88 percent), a flattering fit is the most important factor when selecting a swimsuit.