Vimal unveils first Premium Franchise retail store in Kolkata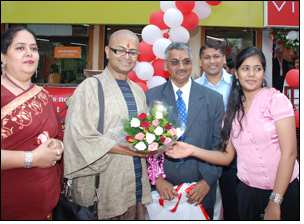 Vimal, the flagship textile brand of Reliance Industries Limited opened its first Premium Franchise retail store at N.N. Dutta Road, Tollygunj, Kolkata. Eminent director, Shri Rituporno Ghosh inaugurated the Tollygunj, Vimal store at an event held in Kolkata.

Built on an area spanning 2600sq feet, designed to cater to the large through put of customers who can experience the new décor, designs and layouts of the Vimal showrooms, which will offer a never-before retailing experience to customers. In addition to premium and innovative products at delightful prices, Vimal will offer its customers premium shopping experiences and enhanced facilities, such as custom tailoring and styling – through these newly redesigned Vimal exclusive stores.

Vimal has over 77 stores in the East, which are witnessing major growth, in footfalls as well as revenue year after year. The company is confident that with increased presence, it will be able to offer 'the unmatched Vimal experience' to more and more customers in Kolkata.

Apart from the launch of Tollygunj store, Vimal is also opening five SIS (shop-in-shop) in Khadims-Egaroo, Kancharapura - 2nd Sept, Khadims-Egaroo, Bhawanipur - 3rd Sept, Khadims-Egaroo, Howrah - 4th Sept, Regent Fashion, Barasat - 5th Sept and Regent Fashion, Haldia - 6th Sept 2008.

Commenting on the occasion of Kolkata store, Smt. Nita Ambani congratulated all members of the Vimal team 'for outstanding teamwork". Smt. Nita Ambani has been involved with all aspects relating to re-launch, store design, branding and customer experience in Vimal re-launch. "We are all very proud of this moment of reviving the Vimal brand and offer consumers in Kolkata a brand which will once again regain the market leadership it enjoyed and top-of-the-mind recall," she added.

Added Mr. Anand Parekh, President Reliance Textile,"The moment of truth for any brand is the experience of the customer at the retail touch point. We at Vimal have taken a lot of care in designing the stores and ensuring that the layout and product display provide a delightful experience to the customers."

Commenting on Vimal's expansion plan, Mr. Parekh said, "We see a huge potential for growth in the Eastern markets. These new openings will further strengthen our commitment in the East market and promote our wholesale and retail business." He further added, "We at Vimal will work to live up to our brand belief; of quality product at exciting prices, in an experience which is warm and friendly."

Vimal has also started advertising campaign for Puja festivals from 25th Aug with 34 hoarding in the state, TVC's and various print campaigns. Since October 2007 after the successful re-launch of its iconic textile brand, Vimal with a new look, new logo and new offerings, total nine showrooms have been opened till now, one in Ahmedabad, two in Bangalore, Mumbai, Chennai, Kochi, Coimbatore, Madurai, & Ludhiana. Vimal have also opened two Factory outlets one in Ahmedabad & another in Nagpur. In the next two quarters Vimal is planning to launch another six stores nationally.