Grab opportunities from global economic crisis – IAF President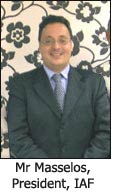 Turkey with its crucial geographical position has the potential to convert the global economic crunch to its own benefit. This was said by Mr Vassilis Masselos President International Apparel Federation (IAF) at the conference held by the Uludag Exporters' Association (UIB) in Bursa.

According to Mr Masselos, Turkey is located at a very advantageous position as it is closer to both Europe and Middle East and this would benefit the country most.

Currently, the country is struggling to keep its pace with the international market, but being a key player in the global apparels market, it needs to overcome the crisis to take the advantage of the present situation to the fullest.

The IAF President suggested that Turkish textile companies can meet the demands of foreign consumers by introducing reasonable prices, as the buying power of the customers has shrunk, they are now preferring cheaper products. Turkey should avoid losing ground in global markets by taking effective measures.

Mr Vassilis Masselos said that the position of the Turkish lira against the US dollar will be a determining factor, and what is heartening that environmental responsibilities of local companies have grown, and the trend is likely to continue.

The IAF is a politically neutral global association, open to entrepreneurs and executives from the apparel chain worldwide. The federation gathers and distributes information on developments in the global apparel sector.