Curtain rises on 'Garment Technology Expo' from today at Delhi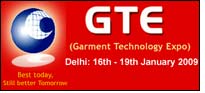 Have you heard the buzz?? India has emerged as a hot contender for China in the challenging apparel industry. Today it needs to keep pace with the most advanced technology in order to face the challenges of open market competition.
There is an overwhelming demand for knitting and apparel production technology at every sphere. India presents a huge market potential for technology and technology players.

New Delhi, the capital of India, becomes the favorite destination of apparel and knitting machinery manufacturers and technology providers from across the globe year after year. The reason? Garment Technology Expo, which has become a much awaited annual event since 2001.

Mr. Inderjit S. Sahni, the founder of Garment Technology Expo-International, whose name has been synonymous with Garment Technology Trade fairs, ably assisted by his son Ricky Sahni have successfully seen through Garment Technology Expo-2009 International, which has acknowledged a sharp ascent as the largest show of Garment Technology.

Garment Technology Expo has been playing a positive role by catalyzing the growth of the industry by enabling manufacturers and exporters to access technology advancement on single largest platform. The show has helped make them competitive and profitable.

As a single platform which offers the finest products and technology relating to production of apparels. The show has the support of the entire garment industry in India as well as the appreciation of international technology leaders.

If it's business you seek, experience the industry's largest show in this part of the world.

GTE brings together all the men, machines, products and systems that shape the future of the garment industry. Today, there is a stronger need for the industry to come together to share knowledge on market conditions & emerging trends as well as to access market opportunities.

We, like many other industries, are facing unprecedented turbulent times. These are testing times, times that test the character a self-belief of every individual and organization. Times for us to work closely with all our partners on both ends of the value chain, to emerge from this predicament triggered globally.

Products Categories on Display:
Sewing: Computerized, Industrial, Overlock, Flat Lock Machines and Spares.
Knitting: Circular, Flat, Socks and collar Machines.
Dyeing & Laundry: Soft Flow, Relax Dryers, Tumblers, Laundry and Dry cleaning machines.
Finishing: Compacting, Steam Ironing Machines, Conveyor Systems and boilers.
CAD/CAM: Designing, cutting Room and all Elated software.
Embroidery: Industrial, Multi-head, Single head and Home machines.
Textile Printing: Digital, Screen and Transfer Printing Machines.
Fabrics: Indian and Imported Nautural and Synthetic fabrics.
Accessories: Zippers, Buttons sewing and Embroidery Threads, Needles, Interlining Padding, Lingerie Accessories, Tapes, Elastics, Hangers, Narrow Woven Tapes, Woven and Printed Labels, Plotter Papers.