J. Crew gets a seat with Barack Obama Family at Inauguration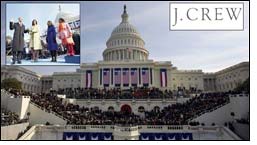 The First Family, including Michelle Obama, Malia (10yrs) & Sasha (7yrs) chose to wear J.Crew & crewcuts by J.Crew to the inauguration of President Barack Obama and for the past weekend's festivities. To represent their style and personality, they each wore J.Crew & crewcuts, J.Crew's children's collection, on the ultimate red carpet for the swearing in of the 44th President of the United States of America.

President Barack Obama chose to wear a J.Crew white satin bow tie with his classic tuxedo to all the Inaugural Balls last night. Barack joins his family, including Michelle, Malia and Sasha in his decision to wear custom pieces from our J.Crew collection for this historic day and celebration.

Throughout the campaign trail, America has witnessed the emergence of a style icon. Michelle Obama has proved that high fashion can be affordable. "We are honored to be part of such a momentous occasion in both history and fashion," says Jenna Lyons, Creative Director of J.Crew.

It all started at Sunday's "We Are the One Concert," where the girls kept warm in crewcuts by J.Crew wool pique Herbie coats, detailed with grosgrain piping and charmeuse linings. Sasha wore an ivory style with hammered brass buttons, while Malia wore a dove grey double cloth style with horn buttons. The next evening, at the Kid Inaugural Concert, Michelle wore a J.Crew classic olive cashmere cardigan over a French metallic lace shell with a deep blue wool serge pencil skirt (the shirt and shell were lined in silk charmeuse).

The Obamas continued to show their support for J.Crew at this morning's Swearing-In, where the girls wore full looks from crewcuts by J.Crew and the new First Lady accessorized her outfit with classic olive green leather gloves from J.Crew. Malia featured a deep periwinkle blue coat, while her equally chic sister wore a deep coral dress under her sweet guava coat, vivid orange scarf and glove set, each tied with a velvet ribbon belt around the waist.

"We wanted to offer a collection that would not define them, but one that would let their own personalities shine though," continues Lyons. For their special day, J.Crew proposed a few day and evening ideas, comprised of clothing and accessories that could be easily mixed and matched with their style and color sensibility in mind. The collection was presented in color stories, which include corals, aquas, lavenders and bright reds, allowing Michelle and the girls the option of creating unique outfits of their choice to reflect each of their own personal styles. Michelle & the girls' outfits were specially designed for them, however highlights may be seen in the Fall 2009 J.Crew & crewcuts Collections.

Crewcuts by J.Crew, which represents a playful take on the adult J.Crew collection, was created for parents looking for well-made children's clothing at friendlier prices. The collection, which features the best of J.Crew items, only smaller, will continue to offer the high quality and signature J.Crew "Classics with a Twist" style.