OLYMP turnover exceeds the 100-million-euro-mark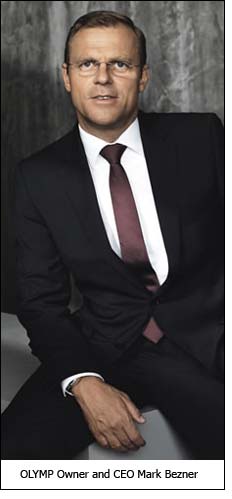 In the 2008 financial year, OLYMP Bezner GmbH & Co KG, based in Bietigheim-Bissingen once again recorded its best result ever with a continued growth in turnover of 12.8 percent. The company achieved a total turnover of 109.4 million euros (turnover in the previous year 2007: 97 million euros).

For the very first time, around 6.7 million shirts, ties and polos were able to be sold. OLYMP has therefore succeeded not only in extending its market leadership in Germany, but has also held its ground in a difficult market environment characterised by reluctant consumer spending and falling sales figures in the textile sector, by offering the highest standards of quality in terms of fabrics and the workmanship of its products. In addition, the international prominence of the OLYMP brand has also increased considerably.

With the creation of 51 new jobs, the number of OLYMP employees in Germany rose from 336 to 387. Around 3,000 people are employed in production sites throughout the world. OLYMP is also remaining optimistic for 2009.

For this reason, with additional growth there are also plans to increase the workforce at the company's head office in Bietigheim-Bissingen. OLYMP Owner and CEO Mark Bezner has the following to say on the economic situation: "We are confident that following the outstanding result achieved in 2008 we will also be able to maintain our turnover volumes. Our fundamental corporate objective for 2009 must be, even in times of increasing global economic and financial difficulty, to offer our employees a secure job and an economically stable company structure through continued increases in turnover. He specifically emphasized the point that, even amidst threats of an impending recession, the OLYMP company is financially secure and has an absolutely solid base. "The involvement of private equity investors or other outside investors is inconceivable for us. With firm conviction, we are continuing with the proven formula of being a medium-sized, owner-operated family company."

The economic changes brought about by falling sales, the closure of specialist retailers and the change in demographics are being felt most particularly in the German textile sector. "In the meantime we have acquired our own retail concept which will enable us to make up for the loss of long established and traditional former trade customers and allow us to make our products available throughout Germany," explains Mark Bezner. In comparison to the previous year, OLYMP currently exports its products to more than 40 countries and this part of the business now makes up 33 per cent of total turnover. The brand-conscious Chinese market continues to offer outstanding growth and turnover rates in the ever-booming economic centres on the East coast, as well as in the cash-rich cities of Russia, in the long established sales region in the Netherlands and since 2007 also in Scandinavia.

Mark Bezner explains the success of the OLYMP product range: "By concentrating on our core areas of expertise, we are in the favourable position of being able to develop and produce our concise, yet extremely in-depth product range of business and leisure shirts, ties and polos with maximum precision. As absolute product specialists, we are always working to improve the outstanding characteristics of our products even further and this enables us to maintain our position amidst fierce, global competition.

In addition to this, ranges are constantly being extended, such as the new "OLYMP Level Five – body fit" range for the super-slim, young and fashion-conscious male which we first developed in the previous year and then launched onto the market in October 2008. Furthermore, the casual and leisure shirt area is clearly on the increase." From the 2009 Autumn/Winter range onwards, brand new additions to the leisure collection will include casual long-sleeved polos, sweatshirts and zipper jackets, which will coordinate with the colours featured in the respective shirt collection. For three years OLYMP has been running an extensive media advertising campaign involving around six million eight-page fashion inserts per season featuring the latest collections and styles in several leading German financial, news and lifestyle magazines. This extensive media presence has enabled us to significantly increase the level of awareness, as well as the popularity rating of the OLYMP brand amongst both male and female purchasers throughout Germany.