Mr Boey appointed as President of Levi Strauss (Asia Pacific)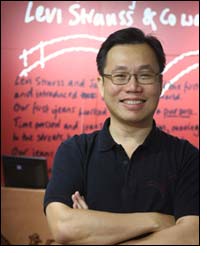 Levi Strauss & Co. (LS&CO.) has appointed Aaron Boey as president of its Asia Pacific Division based in Singapore, effective immediately.

In this role, Boey leads the company's operations in Asia Pacific and Southern Africa. The country managers of the local subsidiaries as well as the regional brand and functional heads report to him. As a member of the company's worldwide leadership team, which sets the company's global strategic direction, Boey reports directly to the president and chief executive officer of LS&CO. based in San Francisco, California in the United States.

Prior to this appointment, Boey served as interim leader of the Asia Pacific Division since October 2008. He joined Levi Strauss Asia Pacific Division in 2005 as regional managing director overseeing the company's businesses in Asia, excluding Japan.

"Aaron has done a tremendous job leading the Asia Pacific Division for the past five months," said John Anderson, president and chief executive officer. "The region finished 2008 with 8 percent revenue growth in the fourth quarter.

"The current economic downturn presents opportunities for a company with strong brands and a reputation like Levi Strauss & Co. to push our market leadership further. With his keen understanding of the consumer markets in the region and his rigor in driving success, Aaron is an excellent choice to lead this work across our Asia Pacific Division," said Anderson.

With an international career spanning 20 years, Boey has a strong track record in driving profitable growth and successes in new product development, brand management and global marketing. His previous experience includes blue-chip Asian and foreign multinational companies in the consumer goods/retail industries including Asia Pacific Breweries, Singapore Airlines, Philips Electronics and Brown-Forman.

Levi Strauss & Co.