American Apparel recieves PE investment of $80 million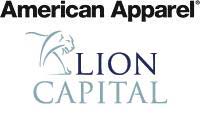 American Apparel Inc. a vertically integrated manufacturer, distributor, and retailer of branded fashion basic apparel, announced that it had entered into a private financing agreement with Lion Capital LLP for $80 million in secured second lien notes maturing December 31, 2013 with detachable warrants.

"We are excited that Lion Capital, a leading private equity firm in the consumer sector, has decided to make a substantial investment in American Apparel. In light of unprecedented market conditions, we believe Lion Capital's investment serves as a strong endorsement of our company and the tremendous potential of our brand," said Dov Charney, Founder and CEO of American Apparel.

"This investment provides us with a long term solution for our capital structure and an enhanced ability to grow our brand both domestically and internationally over the coming years. Lion Capital's singular focus on the consumer sector and their extensive experience with growing consumer brands makes them an ideal partner as American Apparel continues to develop into a leading, global apparel brand."

"We are extremely pleased to have the opportunity to partner with Dov and the management team at American Apparel. The strong growth of the brand over the last few years is a testament to Dov's vision and business acumen and we believe the company will continue that exciting growth into the future, both in the United States and around the world," said Neil Richardson, Partner of Lion Capital.

"American Apparel fits well with our focus of investing in strong, differentiated consumer brands and we look forward to a successful and enjoyable collaboration with Dov and his team."

The notes will have a coupon of 15 percent, payable in cash or payable in-kind (PIK) at the Company's option. The notes are callable at any time at par plus accrued interest. The notes provide for a security interest in all assets of the company and its subsidiaries, subject to prior liens with respect to such assets under the Company's existing revolving credit facility.

Lion Capital also received detachable warrants for an aggregate amount of 16 million shares of the Company's common stock, exercisable at a strike price set at a 5 percent premium to the 30-trading day, trailing stock price average as of market close on March 12, 2009, which equates to $2.00 per share. The warrants expire in March 2016. Assuming conversion of the warrants into common stock, the warrants would equate to a pro forma ownership in American Apparel of approximately 18%.

In connection with the investment, Neil Richardson and Jacob Capps of Lion Capital intend to join the board of directors of American Apparel.

American Apparel will use the proceeds of the investment to retire in full the outstanding amounts on the Company's existing second lien credit facility with SOF Investments, L.P. - Private IV, an affiliate of MSD Capital, L.P. Consequently, American Apparel will not issue any additional warrants to SOF Investments as provided in the December 2008 amendment to the SOF Investments credit agreement. American Apparel will use the remaining proceeds principally to reduce the outstanding balance under the Company's revolving credit facility, repay a portion of a shareholder note, pay fees and expenses related to the transaction, and for working capital purposes.