Disney to introduce Earth Day Collection with RETHINK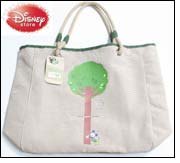 Disney Store North America unveiled its comprehensive lineup of Earth Day activities and promotions designed to educate families about the impact they make by recycling and provide everyone with the opportunity to engage in replanting an endangered rainforest through The Nature Conservancy's Plant a Billion Trees Campaign. These initiatives build on The Walt Disney Company's recently announced long-term environmental goals to reduce emissions, waste, electricity and fuel use, as well as the company's impact on water and ecosystems.

To add to the Earth Day celebration, Disney Store will also introduce an exclusive assortment of environmentally friendly tee shirts and tote bags made from Sustainable Solutions Group's RETHINK fabric, a new textile created from recycled water bottles.

"Disney Store's Earth Day 2009 participation continues Disney's long-term commitment to protecting the environment," said Jim Fielding, President, Disney Store Worldwide. "From merchandise made from recycled and organic materials to projects to promote environmental awareness with Boys & Girls Clubs of America and The Nature Conservancy, Disney Store is proud to help bring attention to preserving this magical place in which we live."

Disney Store's Earth Day 2009 celebration will include these exciting programs:

• Plant a Billion Trees Campaign: Disney Store and Disney Worldwide Conservation Fund in collaboration with The Nature Conservancy have planted one tree to match the number of earth friendly reusable tote bags that have been produced; these bags are available for purchase at Disney Store locations nationwide. Disney Store donated 96,000 trees (one for each tote bag) to help The Nature Conservancy reach its goal of planting a billion trees by 2015 in Brazil's Atlantic Forest, one of the world's most endangered rainforests. The tote bags feature a special Earth Day design, are made from 100 percent recycled materials. Disney Store in the United Kingdom recently joined forces with local charity the Woodland Trust to create "the Magical Wood," a 50 acre site which will be replanted through in-store fundraising efforts, and Disney Store locations throughout the continent of Europe will be planting trees locally, making this a truly global campaign.

• Recycling is Magic: Plastic Bottle Recycling Campaign (April 22, Earth Day): According to the Web site Earth911.com, "In 2006, Americans drank about 167 bottles of water each but only recycled an average of 23 percent. That leaves 38 billion water bottles in landfills." On April 22, 2009, Disney Store locations nationwide will host a plastic bottle recycling program called "Recycling is Magic." To help educate children on the benefits of recycling, Disney Store is inviting everyone to bring in empty plastic bottles and toss them into a unique recycling bin. On April 22, while supplies last, guests can exchange three empty bottles for a free commemorative Earth Day reusable water bottle.