Product safety standards challenge growth of exports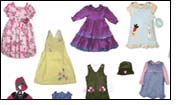 Among the recall notifications issued by Consumer Product Safety Commission (CPSC) of the United States during January to March, of which the proportion of products of Chinese origin increased 20 percent in volume year-on-year.

The notifications regarding Chinese clothing, fabrics and products announced by European Union's Rapid Alert System (RAPEX) on non-food categories showed a year-on-year growth of 633 percent.

The main product categories under the scanner of the CPSC are clothing products, children's clothing in particular, since it is the main area of concern, but also includes some special purpose clothing and sports clothing.

Children's clothing with excessive lengths of strand were ordered to take corrective measures while other types of products were either actively or passively withdrawn from markets, and already sold products were recalled.

After export quotas of Chinese textile and garment to the European Union and the United States were abolished in 2008 and 2009 respectively, these regions have increased vigilance against China's textile and apparel exports.

It is reported that the EU has introduced more than 10 new requirements after the elimination of quotas, such as prohibition of using azo dyes, textile eco-labeling standards and OekoTex100 standards which will be improved every year.

The introduction of these technical barriers to trade will make China's exports of textile and apparel products face greater cost pressures and risks.