Lojas Renner opens new outlet in North region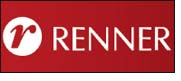 Lojas Renner S.A. announces to the market in general and other interested parties the opening of a new outlet, on April 07th, in the North region of Brazil.

The first such opening in the year of 2009, it is located in Manaus - AM, in the Shopping Manauara, with a total area of 3,635 square meters.

Lojas Renner's expansion plan for the year of 2009 includes the opening of eight new stores.

The year 1965 marks the beginning of the history of Lojas Renner as a truly independent company. It was as part of the group that AJ Renner Lojas Renner opened in 1922, the Gaucho capital, his first point of sale for the marketing of textiles. In 1940, as a company belonging to the group, the mix of products was expanded and Lojas Renner is now operating as a department store.

In 1965, due to their growth and development, the group chose to make AJ Renner different independent companies that formed, when it was formed the company Lojas Renner SA Two years later, in 1967, Lojas Renner has become a venture capital aberto. Após decades of good performance, Lojas Renner went through a deep restructuring in the early 1990s, going to operate in the form of department store specializing in fashion.

Lojas Renner S.A.