ASOS founder is the guest speaker at ASBCI Dinner 2009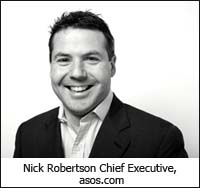 The UK's leading forum for clothing and textiles, the ASBCI, is delighted to announce that Nick Robertson, founder and chief executive of on-line fashion phenomenon asos.com is the guest speaker at its Annual Industry Dinner 2009. The dinner is being held at the Dunchurch Park Hotel, in Dunchurch, Rugby on Tuesday 19th May 2009 and is the finale event to the ASBCI Annual Industry Conference being held during the day. The evening will also host the finals and award ceremony for the ASBCI Student Design Innovation Award 2009, being sponsored by Marks & Spencer plc, M&S.

Nick Robertson founded asos.com in 2000 and it is now the UK's largest independent on-line fashion and beauty retailer with over two million registered users and 5.2 million unique visitors a month. Its innovative use of catwalk videos and on-line fashion blogs have established a new standard for fashion e-commerce and with sales predicted to reach £150 million by the end of March 2009 it is currently one of the UK's fastest growing retailers. In addition to explaining how asos.com is managing to buck the downturn in consumer spend, Nick Robertson will share his vision for fashion's retailing future.

The finals of the ASBCI Student Design Innovation Award 2009 sponsored this year by M&S, will also take place during the dinner. Paschal Little, head of technology, womenswear, lingerie and kidswear, M&S will announce the winners and present the first prize of £500, a second prize of £300 with third and fourth prizes of £200. Finalists have been selected by M&S from an initial entry of over 110 story board submissions from 11 UK-based fashion universities. Students were asked to design a truly innovative and unique collection of kidswear that must be fun, safe and comfortable.

As Paschal Little explained: "This is not so much a design challenge as about innovative ideas, no matter how conceptual. Our M&S design teams will look at the students' ideas with a view to turning them into a commercial reality so the winners could see their designs in M&S stores around the world." He added: "It is a very exciting opportunity for the student finalists and a great opportunity for M&S to tap into fresh design talent. In past years we have been so impressed by the standard of entries that we have offered design positions to ASBCI student finalists."

M&S continues to be a leader in delivering new garment innovations. It launched the first machine washable suits, 'magic' shapewear, ladder resist hosiery and 'secret support' underwear. For children it currently offers a line of innovative designs including the ipod blazer, reversible hoodies and bikinis, printed T-shirts that change colour in the sun and shirts that can turn into cuddly toys.

The ASBCI Annual Industry Conference held during the day is entitled: 'The Crude Cost CO2st of Fashion' – Addressing fashion's economic and energy challenges'. Pricewaterhouse Coopers LLP, the National Grid and the UK Petroleum Industry Association will join speakers from Marks & Spencer's green fashion factory Brandix Lanka, Sainsbury's and Tesco Stores with Lauretta Roberts, editor of Drapers presenting her overview of the UK high street.