'Our lifestyle retailing has amazing price points' – VP, Spencer's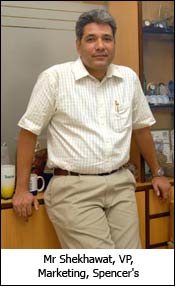 The flagship retail venture of the RPG Group "Spencer's" is planning a foray in to the lifestyle segment of retailing. The Kolkatta based retailer is contemplating setting up five stand alone stores of the iconic US fashion brand Beverly Hills Polo Club (BHPC). All the five outlets will be set up in the Delhi NCR region and will gradually increase its pan India presence with the addition of more stores in a phased manner.

Spencer's has signed an exclusive brand license tie-up with BHPC International late last year and has now till date set up nine BHPC shop-in-shop stores within its hypermarkets. The stand alone stores will be spread over an area of 1000-2000 sq feet and entail an investment of Rs 50 million at a cost of Rs 5,000 per sq feet which is over three times the investment in its current operations. The retailer also plans to take advantage of its studio located in Delhi.

To understand the whole concept behind the foray and future plans of Spencer's with regards to the lifestyle retailing segment, Fibre2fashion spoke to Mr Samar Singh Shekhawat, Vice President, Marketing, Spencer's Retail Limited, who was very kind enough to spare valuable time from his busy schedule and provide us elaborate and exhaustive replies to each of the questions.

We started off by asking him the range of products to be showcased in the standalone stores especially in the clothing and accessories section, to which Mr Shekhawat said, "Beverley Hills Polo Club is an international fashion brand of lifestyle clothing for men and women. BHPC presents casual and formal wear, winter wear, eyewear and watches for men and women at amazing price points which range from Rs 399/- to Rs 1499/-.

He continued, "Currently, we have 9 BHPC shop-in-shop outlets over approximately 10,000 sq feet space in Spencer's hyper markets. The upcoming standalone stores would be set up over approximately 1000–2000 sq feet space. The merchandize range would remain the same but greater depth would be added which means better assortments than what is available in the shop-in-shops. We will also add a new category; perfumes in the standalone stores.

Next we asked him as to the brand awareness for BHPC in and around the NCR Delhi area and which would be the next regions for expansion, to which he replied by saying, "BHPC is an international brand but no much known in India. We launched it in November 2008. In a short span of six months, the brand has gained a lot of visibility among our consumers which is reflected from the encouraging sales figures from the BHPC sections".

He added by saying, "Since, BHPC shop-in-shop was part of the Spencer's hypers, our awareness initiatives were largely instore. Our attempt was to convert consumers who were stepping into our stores for their food and grocery purchases. And since those numbers were and are very high, converting these footfalls is not a difficult task, esp. given the range, assortment and quality of the BHPC products".