GOLFINO offers seven modules for women with G+ style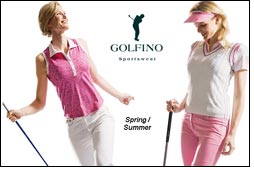 As the European Market Leader in Golf Sportswear, GOLFINO offers a variety that is larger than ever. The latest spring/summer GOLFINO collections show a great range of fresh and sparkling colours, always designed in the best of taste and representing a style of understated elegance. The young G+ collection stands for a new and unconventional Golf fashion. The unique selling point of the GOLFINO brand is the unrivalled combination of high-tech function and fashionable outfits.

GOLFINO Ladies
In Spring/Summer 2009, GOLFINO offers seven different modules to the ladies.

GOLFINO – Ladies CRUISE RESORT Our Ladies offer for Cruise is twice that of the men's collection. In the Resort Module as well new argyles interpretations form the stylistic link to the sport. Colour highlights are chilly and rose. Metallic effects add glamour. All styles are made of highly functional fabrics headed by the great new 3 Ultra jacket and 4-way-stretch trousers.

GOLFINO – Ladies CRUISE COSMOPOLITAN
Cruise Cosmopolitan is bohemian golf wear extravagantly contrasting navy and violet with white and orchid. The touch of sporting elegance is created by casual checks in variations from Pepita to Big-Check. Colour contrast and ruffles demonstrate the designers attention to detail.

GOLFINO – Ladies SPRING ON COURSE
Are you ever certain of sell-through success? Probably not. But in the On Course Module you will find new variations of past best seller, the foundation of every golf shop assortment. Light candy colours for shirts offer a very female statement. Polartec jackets and waistcoats are alltime favourites and sold in combination with soft touch techno stretch trousers.

GOLFINO – Ladies SPRING RESORT
Spring also has its Resort Module inspired by the natural golfer with soft tones like desert, nougat and off white, but highlighted by yellow and many playful details like colourful stripes, embroideries and ruffles. Prints are important with a graphic motive in the manner of Pucci and an enchanting golf composition.

GOLFINO – Ladies SPRING COSMOPOLITAN SPORTY
Cosmopolitan as always is more sophisticated fashion. Still highly functional and wearable on the golf course it is inspired by city casuals. The Sporty Module follows the theme on the other side of Africa. A white blouse inspires polo shirts with confectioned details. A jungle print is an obvious statement and a trench jacket is ready for the grand expedition.

GOLFINO – Ladies SPRING COSMOPOLITAN EXCLUSIVE
The luxurious theme of ladies cosmopolitan is ethnically inspired with colours caused by the burning sun. Fancy details determine the fashion. Ruffles at the side seams, the sleeves or the polo panel compose a cool feminine style. The colour story is united in an unique floral print. Value is understated but noticeable with embroidered pearls.

GOLFINO – Ladies SUMMER RESORT
Summer Resort shows a preppy look in the corresponding fresh colours. Brightened by clear white, a range from rose to pink to berry shows happiness and is softly romantic. The golf print is ideally matched to mini vichy trousers. Summer Resort gives that extra reason to visit a GOLFINO Shop in May.