Global sewing machine leader Juki sews up Indian arm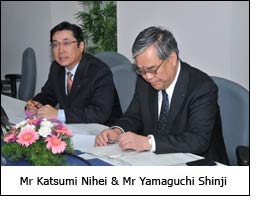 Juki India Pvt. Ltd. is the Indian subsidiary of the Juki Corporation, Japan, a global leader in industrial sewing machines, and having other divisions including SMT Systems, Household sewing machines. As of March 2008, the company has 37 subsidiary companies, nearly 7,264 employees and consolidated sales of approximately 130.4 billion yen.

JUKI India was established as a direct arm of Juki Corporation in 2008 to enhance its presence in the country due to its growing importance in the global garment industry. It began as a liaison office for JUKI Singapore in 1995, later upgraded to subsidiary of Juki Singapore Pte Ltd. In 2005 it was upgraded to a direct office.

The new office has a state of the art display showroom and a Central Part Centre for stocking spare parts. It also houses a seminar hall that will be used to conduct technical seminars, plant engineers and product seminars for customers as well agents, sales persons and technicians. Customer satisfaction is at the core of the vision of Juki India, and not merely making a sale.

Speaking to Fibre2fashion, Mr. Kastsumi Nihei - Managing Director, Juki India said, "Considering our expanding market in India, we felt a pressing need to upgrade our services and facilities for our customers. The Indian market is very dynamic, and we believe that JUKI provides the right technology solution to push the Indian garment industry on a growth trajectory, especially in these times of troubled economy.

"These are tough times and at Juki, we believe that this is the time for strengthening our relationship with our customers, since India has been a significant market for us in the last 14 years and so it is logical for us to have direct presence here, which also shows our commitment to the market," added, Mr. Yamaguchi Shinji, Chief Executive Operating Officer, Juki Corporation, Japan

In addition to a strong distribution network of agents and business partners, JUKI India has nine branch offices across the country. It has 100 employees to provide marketing and technical support to its customers and is the only one in the sewing machinery manufacturers segment to have such a strong presence in India.

The office will have a dedicated showroom space, spare part centre, seminar venue and sales & technical support team. The showroom has been specially designed to enable customers to look and feel the product as well have a live demo, before purchasing it, which will help them buy the right machine to suit their specific needs.

"There has been a slowdown in this segment, nearly up to 30%. But, for those still in the business, quality and productivity are the pressing problems. Though they have orders and the technology, they are unable to meet deadlines because of under utilisation of their strengths," Mr. Mayur, Manager, Plant Engineering Department, Juki India, told Fibre2fashion.