SELA collection indeed delivers the spring mood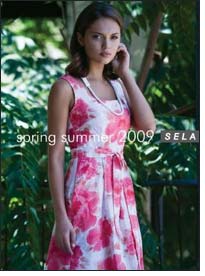 New SELA Spring collection reflects the very last trends just like a mirror. A slight defile between the stands, and here you are, aware of everything the vogue suggests. Sweet cherries-flavored caramel, raspberry sorbet or strawberry with whipped cream – forget the tiresome and scarcely attractive black-and-white diet.

It's about time to make a tasting and admit that a light flowered trench coat in lilac and violet, mint pastilles-colored knitwear or dresses of cappuccino-foam hues are an excellent source of inspiration. SELA collection indeed delivers the spring mood. And the most important is that the bill for all these material pleasures will be highly agreeable. Nobody else knows how to make the fashion accessible as SELA does, for which this spring collection is perfect evidence.

Ladies collections
Lifestyle - In this collection, the most important hits of the season meet. The line is distinguished for its laconic cut that makes the model's shape ideal. The cut's sculpture is carried on with thematic patterns: square and elliptical ornaments stress the clear shape of tops and skirts, making the designs double showy. Geometry's adversary is a fantastic floral print: the leaves and rosebuds look real, enlivening tops and shirts. Purple and crimson palette was chosen as the current basic tonality, since it is quite universal and unhackneyed, which allows creation of interesting combinations with other colors important for the season, such as snuff-brown, smoky grey and white.

Nuance - The essentials of style are the skill of proper nuances highlighting. By the means of collection under the same name, SELA designers remind us of this fashion golden rule and offer clothes that help make your wardrobe harmonic. Nuance is about elegant clothes, including sport-elegant, which masterly emphasize the good taste. All kinds of pants and, as the season's trend – bell-bottomed designs, trench coats, blouses, skirts and dresses of trapezoid cut – Jaclyn Kennedy could very well wear them! The line's palette consists of gentle pastel tints: smoky sky blue, dusty rose, soft violet and olive perfectly combine with grey and black which are essential for any season.

Solar geometry - Solar geometry is a secure combination for spring welcoming: color plus pattern. Interesting geometry combined with generous color template and various drawings on fabric allow reaching the goal of looking stylish and vivid, and, what is more important, in time with the epoch of "fast fashion". The formula has found its proper reflection in designs of diverse stylistics: light coats and listed parkas, bright blazers and knitwear of showy cut – for instance, with the riskless dolman sleeve, and also high-waistline dresses and tops necessary for the spring. The collection's colors are not only all derivatives of sunlight, but also red, sunset color up to lilac, grass green, various hues of blue, as well as dark grey, smoky and just a bit of black – for the contrast's sake.