Lojas Renner profit drops in Q1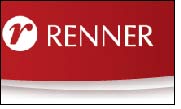 LOJAS RENNER S.A., the second largest department store chain merchandising apparel in Brazil, announces its results for the first quarter 2009 (1Q09). Except where indicated to the contrary, the following financial and operating information is consolidated according to Brazilian Corporate Law, incorporating the amendments in Law 11,638/07. Comparisons refer to the first quarter of 2008 (1Q08).

HIGHLIGHTS OF THE 1st QUARTER 2009
• The Company reported total Net Revenue of R$ 419.1 million in 1Q09 against R$ 431.8 million in 1Q08.
• Net Revenue from Merchandise Sales was R$ 362.6 million in 1Q09 when compared with R$ 383.4 million in 1Q08. Same store sales recorded a year-on-year decline of 12.0%.
• Gross Profit from Merchandise Sales reached R$ 171.0 million in 1Q09 and Gross Margin registered a reduction, moving from
47.9% to 47.1% in 1Q09.
• Average Operating Expenses per store declined by 5.1% (Selling Expenses) and 11.2% (General and Administrative Expenses) in 1Q09 compared with 1Q08. This improvement is a direct result of management's ongoing efforts since the start of the crisis in the second half of 2008 to implement a strict control and cost savings plan.
• EBITDA1 reached R$ 42.0 million in 1Q09 with an EBITDA Margin on Net Revenue from Merchandise Sales posting 11.6% in the quarter compared with 14.5% in 1Q08 (10.0% if calculated on the Company's total Net Revenue against 12.8% in 1Q08).
• Investments in Fixed Assets in 1Q09 totaled R$ 6.4 million against R$ 18.1 million in 1Q08. This amount was largely spent on preparing five new stores for rollout scheduled for 2Q09. The forecast is for a further three stores to be inaugurated in the second half of 2009, making a total of eight stores unveiled by December 2009.
• Renner Card transactions accounted for 59.3% of 1Q09 sales. The Company recorded a total of 13.8 million in cards issued, with average ticket of R$ 102.93 against R$ 101.35 reported in 1Q08.
• In a subsequent event, following a second call notice, Lojas Renner's Ordinary General Meeting (OGM) was held on April 15 ratifying the account statements for fiscal year 2008, management compensation, the allocation of profits and the distribution of dividends - the members of the Board of Directors and Fiscal Council also being elected. The OGM further approved the distribution of dividends totaling R$ 45.0 million (R$ 0.3705 per share), being R$ 8.6 million (R$ 0.0709 per share) in dividends and R$ 36.4 million (R$ 0.2996 per share) in interest on shareholders equity, paid out as from April 24 2009. Consequently, shareholder remuneration amounted to a payout of 25% (dividends distributed on net income) and a dividend yield of 2.4% (dividends per share against share price) when based on the price of R$ 15.67 as at December 30 2008.

STORE OPERATING PERFORMANCE
The apparel retailing business in the first quarter of the year is characterized by reduced sales volume in relation to the rest of the year. Traditionally, household incomes are squeezed due to the spike in tax payments and school enrollment fees, not to mention additional expenditures incurred during the summer vacation period. There is also a natural tendency to cut spending following year-end purchases with consumers beginning to pay off debt contracted in the preceding fourth quarter.