Apparel experts at PSF call for partnerships to override inefficiencies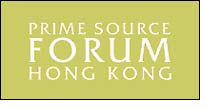 Apparel manufacturers and retailers across the globe have been hit hard by a range of stresses and strains placed on their supply chains. The problems, which arise from various sources, are especially pronounced in light of today's financial crisis.

However, with challenge comes opportunity, as pointed out by industry leaders who spoke at Prime Source Forum 2009 (PSF 09) held last month in Hong Kong. "Partnership" emerged as the overriding solution to tackling supply chain deficiencies, as experts called for stronger cooperation on transparency, compliance standardisation and product safety.

The annual Prime Source Forum, the definitive meeting place for decision makers in the global apparel industry, brought together about 400 participants from 25 countries for the fourth time to deliberate the challenges and opportunities facing this multi-million-dollar sector.

PSF 09 opened with a series of operational workshops on Day 1, followed by a two-day Forum where panel discussions covered topics that ranged from the political implications on Sourcing, Product Safety, Sustainability and Technology versus Talent Management to the changes in Retailing. (See Appendix A for the full programme.)

Welcoming the participants was Michael Duck, director of PSF organiser, APLF Ltd (see Appendix B ), who reminded everyone that the PSF concept was born in the light of the abolition of quotas in 2005, when many in the industry foresaw the development of a chaotic situation. "The challenges have changed, but the need for informal discussions has never been greater than today," noted Mr. Duck.

Markus Lampe, Senior VP, Marketing of CRYSTALLIZED – Swarovski Elements, D. Swarovski & Co., one of the sponsors of PSF 2009, said in his introductory address: "As consumers call for traceability, supply chain standards, product authenticity and quality, so responsible business behaviour becomes essential for any company."

PSF 09 also welcomed Rita Lau Ng Wai-lan, JP, Secretary for Commerce and Economic Development, who outlined the measures taken by the HKSAR Government to help the industry respond to the economic turmoil. One such initiative is the Innovation and Technology Fund (ITF), which supports innovation and technology upgrading in industry, and aims to increase the value-added productivity and competitiveness of economic activities. Mrs. Lau said: "Since its establishment in 1999, the ITF has supported 61 innovative textiles/clothing-related research projects with total funding of US$31 million." Lau also explained the government's special loan guarantee scheme, set up in December 2008 to ease the credit crunch and help businesses obtain bank loans.

Following the opening addresses, eight interactive sessions were held over the following two days, each with its own moderator and five industry specialists on the panel. The participants convened in true forum style, with the enthusiastic delegates taking part in spirited and often controversial discussions with the panelists.