Glenmuir takes performance wear to new levels with A/W line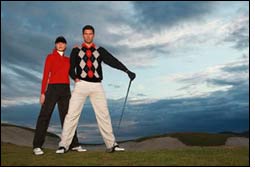 Leading golf apparel brand Glenmuir has demonstrated its growing emphasis on garment performance with a 22-product Men's Performance Collection for Autumn/Winter '09 – highlighted by three new shirts and two new lined sweaters.

At the heart of the new Glenmuir Men's Performance Shirts range is the introduction of two new 'smart fabrics' - ThermoCool and CoolFlex - which sit alongside Glenmuir's other high-performance HiCool and CoolMax technologies and give golfers the ultimate in performance golfwear. Scottish based Glenmuir has unveiled seven Men's Performance shirts, spearheaded by the new Performance Tech polo, long-sleeved Slaley and the short-sleeved version, Skibo.

The Performance Tech polo uses ThermoCool which consists of a unique blend of hollow and solid fibres that interact with the golfer. When the user is hot and perspiring, the fabric allows evaporation, keeping the user cool and comfortable. When the user is cold, the fabric traps body heat and creates a barrier to external cooler temperatures, keeping the user warm and temperature-regulated – known as thermo-buffering.

Available in three contemporary colours with contrast stripes and a lock-down zip-neck placket, the Performance Tech is available in sizes S-XXL. Other new additions to the Glenmuir Men's Performance Shirts range include the long-sleeved Slaley polo, which features the CoolFlex performance fabric to deliver lightness and stretchability with outstanding moisture-wicking. Available in four solid colours with contrast piping to the collar, shoulder seam and cuff, the Slaley is available in sizes S-XXL, the short-sleeve version Skibo, is also available.

Elsewhere in the Men's Performance shirts category, Glenmuir has updated the hugely-popular Performance Club, Performance Team, HiCool Classic and Hi-Cool Base shirts with new colours.
In its increasingly popular Men's Performance Fleeces & Lined Sweaters range, Glenmuir introduces the superb new Fulford and Lindrick sweaters, which both feature weather-beating StormBloc technology. The 100% machine washable Fulford features a contemporary textured diamond design, lightweight windproof lining, zip neck, and double cuffs and welt and is available in black, ice, navy and tan colours.

The feature-rich new Lindrick adds extra freedom of movement via a stretch lining and is available with a smart needle-out design and in three colours – charcoal, navy and espresso. Glenmuir Marketing Director, Andy Bough, said: "The introduction of new 'smart fabric' technologies like ThermoCool and CoolFlex means we deliver unparalleled levels of comfort and performance across our entire Men's Performance collection. "The new Performance Tech shirt is a major breakthrough at a time when weather can change in an instant, in that it adapts to the conditions and keeps the golfer warm or cool, depending on the situation."

All Glenmuir's new and existing Men's Performance products are available in sizes S-XXL and reflect the company's Autumn/Winter '09 colour palettes - 'Black Jack' (linen, greys and black shades injected with a splash of deep garnet red); 'Autumn Fire' (relaxing winter white, tan, stone, espresso and black with a fire red highlight) and 'Blue Tones' (classic shades of blue from the deepest navy to cool ice).