Apparel retailers can reap economic benefits from us – GM, Safexpress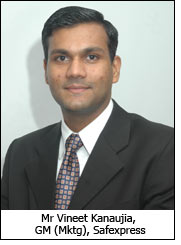 A good supply management system is the key to a well managed distribution chain. This applies more so to the upcoming retailers who have thousands of Sku's, as well as textile and garment manufacturing companies who operate out of multiple locations, but may lack a well oiled supply chain management. Safexpress has been a pioneer in establishment of a supply chain management in India which can help companies overcome problems of procuring of raw materials as well as distribution of their final products.

In an exclusive interview with Fibre2fashion, Mr Vineet Kanaujia, GM (Marketing) at Safexpress spoke about the effectiveness of the supply management system set up by his company for the industry at large. Mr Kanaujia is responsible for giving shape and direction to the marketing strategy of the company. His constant quest for innovation and incessant efforts to promote 'Brand Safexpress' has led to the formulation of a robust marketing strategy, which has elevated the standing, credibility and visibility of the company.

We began the interview by asking Mr Kanaujia to explain as to how a good supply management system could help the textile and apparel retail companies in India, to which he spoke in detail by saying, "Supply Chain & Logistics is the backbone of the apparel industry in India. Currently, Safexpress is providing its services to 10 different verticals including Retail & Apparel, Healthcare & Pharma, Auto, Publishing, IT, Telecom, FMCG, etc. Out of these verticals Retail & Apparel is our largest vertical with a contribution of around 20% to our total business revenues.

"We have been very actively contributing to the growth of apparel industry in India over the last decade. Safexpress essentially provides three lines of specialized services to its apparel clients including Express Distribution, Third Party Logistics (3PL) services and Supply Chain Consulting. We specialize in providing 'Value added supply chain services' to our customers. This gives us a clear edge over other supply chain & logistics players, and helps strengthen our leadership position in the industry.

"A very important aspect of the Apparel business is to provide time-specific deliveries. We provide Time-definite Express Deliveries to our customers through our Express Distribution services. We have a capability to deliver in 1.8 days on an average to over 562 locations in India. Most of the well known apparel companies in India are taking advantage of this unique service from Safexpress. Safexpress is the 'market leader' as well as 'knowledge leader' of supply chain and logistics industry.

"We offer integrated supply chain solutions to our customers, by way of our Third Party Logistics (3PL) services. Specialized Value Added Supply Chain Services are provided by our company to our key apparel clients. These include services like Store-Ready Delivery, Packaging, Labelling and Reverse Logistics. Apparel companies can getnumerous economic benefits by using 3PL services including elimination of infrastructure investment, risk hedging, better cash-flow, reduction of operating costs, exchange of fixed costs with variable costs, access to external resources along with world-class processes and technologies.