Debut of Muscle Flex VATA Brasil line at GBK Hollywood event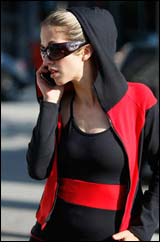 Muscle Flex Inc announced that it will be attending the GBK Productions Emmy Awards Gifting Lounge on September 18 and 19 in Los Angeles and will debut its Muscle Flex VATA Brasil Sports & Active Wear collection, www.MuscleFlexVATA.com. This invite only event is an exclusive Emmy Awards gifting bazaar which is attended by Hollywood's elite celebrities, media, agents, producers and Hollywood insiders. The event is also well attended by national and international media and press organizations.

On June 29, 2009 Muscle Flex announced that influential Hollywood insider GBK Productions, provided a standing invite to Muscle Flex to all of its high profile Hollywood and National media events. GBK Productions invites only selected companies to attend their luxury and high profile galas and seeks to connect today's hottest celebrities, personalities and media with new and exciting products to create an industry "buzz" and national media exposure for companies showcasing their products at their world-class prestigious events. GBK Productions is the premier company engaged in putting on some of the most prestigious events and gifting suites in Hollywood which include: The MTV Music Awards, The Golden Globes, The Oscars, The American Music Awards, Cannes, the Sundance Film Festival, the Emmy Awards as well as the Superbowl, and many others.

Events such as the Emmy Awards GBK Productions Gifting Lounge forms an integral part of Muscle Flex's strategy of launching new products with intensified media exposure and allows for potential endorsement deals, testimonials and participation by some of Hollywood's most visible celebrities in helping to establish Muscle Flex brands.

"Muscle Flex's suite of products has that exciting, large market potential and celebrity appeal that can work extremely well in the high-profile gifting shows and Hollywood events," commented Gavin Keilly, President of GBK Productions. "GBK presents some of the most prolific and sought after Hollywood gifting events. Muscle Flex and their suite of products is always a welcome addition to the lineup."

"GBK Productions is an influential player in Hollywood and we are thrilled to be associated with Gavin Keilly and his talented group of media professionals. Our new products are being launched through a comprehensive marketing model in the $150 Billion direct response TV industry. GBK Productions provides the celebrity association and heightened 'media buzz' that differentiates our product releases and complements our efforts to maximize product awareness through multiple media channels," commented Danny Alex, Muscle Flex CEO.

Last week, Muscle Flex announced that it had signed an exclusive agreement with Houston PAD, master distributor for VATA Brasil™ for the development of two distinct sports & active wear collections:

The Exclusive Muscle Flex Premiere™ by VATA Brasil™ Collection -- The Muscle Flex Premiere line shall be an exclusive,original, sassy and sexy female active wear line co-developed by Muscle Flex and the design team at VATA Brasil. To be launched in early 2010.