Launch of Expedition Hanesbrands to test innovative apparel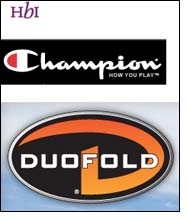 Hanesbrands Inc. announced that its Champion and Duofold apparel brands are going to the top of the world, leading a Mount Everest expedition to drive brand awareness and showcase the company's research and development innovation and textile science leadership.

"Expedition Hanesbrands: Climb With Us" will be lead by accomplished international mountaineer and motivational speaker Jamie Clarke and will begin next month with a training climb of Mount Pumori in Nepal, a 23,494-foot-high Himalayan neighbor to Mount Everest. The Everest summit bid will take place in the spring 2010 Himalayan climbing window.

An expedition launch news conference will be held live today at 10:30 a.m. EDT from North Carolina State University's College of Textiles in Raleigh, N.C.

When Clarke, 41, and his team head to Pumori next month, they will be testing new cutting-edge apparel, including socks, base layer, insulating layer, and soft- and hard-shell garments, developed by Hanesbrands R&D team using more than 100 years of expertise and product innovation in the company's Champion athletic apparel and Duofold base layer product lines. In January 2010, Hanesbrands expects to unveil a one-of-a-kind summit suit designed to keep Clarke warm and mobile in the high winds and severe cold on the highest reaches of 29,035-foot Everest, the highest peak in the world.

The expedition will feature two Web sites to follow the team's progress, including Champion's "Climb Everest With Us" Web site that houses an online community for users to declare their own personal Everest and a chance to win to win $10,000 to fulfill their dream. The site is located at www.ClimbEverestWithUs.com.

The Champion brand was founded in 1919 and offers products across a wide continuum – from team uniforms and performance apparel to stylish activewear and collegiate gear. Duofold, founded in 1906, is a leader in high-performance base layer apparel, and has been used in high-altitude mountaineering expeditions since the time of the first summit of Everest.

"Champion and Duofold have a long history of authenticity and innovative apparel," said Kevin Hall, executive vice president and general manager of outerwear for Hanesbrands. "This expedition is a great way for us to leverage our history and expertise through marketing programs, including engaging and informative Web sites and consumer contests. By bringing the strengths of both brands together, we are also exploring new cold-weather training gear inspired by the research and development we are doing for the noncommercial apparel Jamie will use high on Everest."

Hanesbrands is also kicking off a "What's Your Everest" wellness program for its headquarters employees. Participants will undergo a comprehensive health screening to set their fitness baseline and will meet with a health coach to set their wellness Everest and create a path to reach their goals. Clarke will visit Hanesbrands headquarters tomorrow to trek through the offices to engage employees and unveil the program.