Liz unveils branding strategy; JCP to carry Claiborne Line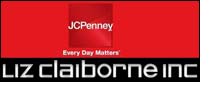 Liz Claiborne Inc. announced bold steps to further the revitalization of the Liz Claiborne brand franchise and to significantly alter its earnings trajectory. To accomplish this, the company has entered into a long-term licensing agreement with J. C. Penney Company, Inc., under which JCPenney will become the exclusive department store destination for all Liz Claiborne and Claiborne branded merchandise in the United States and Puerto Rico.

The other important element of this strategy is moving the distribution of the Liz Claiborne New York brand designed by Isaac Mizrahi to QVC. As a result of these agreements, the company expects the Liz Claiborne wholesale brand franchise to swing from a meaningful adjusted operating loss in 2009 to a targeted adjusted operating profit in 2010.

Liz Claiborne and Claiborne Brands Exclusive to JCPenney
The Liz&Co. and Concepts by Claiborne brands, launched at JCPenney in 2007, have consistently been among JCPenney's strongest exclusive brand performers, reflecting the enormous appeal of the Liz Claiborne brand to the JCPenney customer. This milestone, strategic agreement substantially expands this highly successful partnership by launching full lifestyle collections under both the Liz Claiborne and Claiborne brand names, available in JCPenney stores, catalog and on jcp.com beginning in Fall 2010.

With this agreement, all Liz Claiborne merchandise at JCPenney - which will include approximately 30 merchandise categories - will now be sold in JCPenney's highly affordable better/best pricing category. Liz Claiborne Inc. will lead the design process, JCPenney will be responsible for sourcing, production, marketing and distribution and they will together merchandise the brand.

Additional highlights of the JCPenney agreement include:

• The agreement has a term of up to 10 years beginning in August 2010. At the end of year five, after certain consents have been obtained, JCPenney will have the option to acquire the licensed trademarks and other Liz Claiborne brands for use in the U.S. and Puerto Rico.JCPenney will also have the option to take ownership of the marks in the same territory at the end of year 10.
• Liz Claiborne Inc. will receive design service fees and royalties as a percent of sales plus gross profit sharing with guaranteed minimums.
• The merchandise will be sourced by JCPenney's well established sourcing organization to leverage a long history of supplier relationships and leading edge, proprietary technology and processes.
• The launch of Liz Claiborne and Claiborne will include a full range of apparel for women and men, as well as accessories, shoes and home.
• Liz Claiborne Inc. retains the rights to market and distribute the Liz Claiborne, Liz & Co., Claiborne and Concepts by Claiborne labels outside of the U.S.

Commenting on the JCPenney strategic partnership, Liz Claiborne Inc. chief executive officer William L. McComb said: "There are few brands, across the American landscape, with the history, cultural significance, and consumer credentials as the Liz Claiborne brand. Today, we've taken bold steps that honor this amazing heritage. After two very successful years partnering with JCPenney, we decided it was time to take it to the next level.