Goodby for Dickies image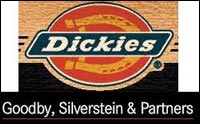 Dickies, the innovative work and lifestyle apparel brand, announced legendary firm Goodby, Silverstein & Partners (GS&P) as its first ever full-service advertising agency of record. The agency will work collaboratively with Dickies to develop distinctive, lasting marketing campaigns beginning in 2010. The announcement is a hallmark in the brand's 87-year history, marking the first time the company will utilize an agency to provide expert creative guidance. GS&P will also provide strategic media planning, production, digital marketing, e-commerce and account management support.

After an extensive ten-month search process, GS&P was selected from more than 50 leading agencies because of their keen grasp of the Dickies brand and the importance of its esteemed heritage. The award-winning agency, known for such classic works as the "Got Milk?" and Budweiser Frogs campaigns, previously developed work for Nike and also represents Hewlett-Packard, Frito-Lay, Sprint, Nintendo Wii, Häagen-Dazs, Quaker, and the NBA, among other renowned brands. Initial Dickies brand work from GS&P is expected to run in the second half of 2010. Omnicom sister agency BBDO will support the brand's international advertising efforts.

"Dickies is a proud, independent brand and we need the perfect partner to help market our image to consumers in a way that doesn't alienate our loyal brand fans," said Tad Uchtman, senior vice president of marketing, merchandising and licensing for Dickies. "We're very pleased to have GS&P join our stable of marketing partners and look forward to seeing the dynamic creative concepts and strategic media plans they develop for us."

Dickies has conducted thorough consumer research over the past several years in order to better understand the brand's reach across the apparel and accessories industry. Findings have demonstrated that the Dickies brand is sought out by a broad spectrum of consumers because of the durability, quality, value and innovation inherent in each piece of Dickies apparel.

The breadth of product offerings plus the company's no-nonsense, unpretentious image appeals to customers from the typical American working hero to cubicle workers and fashion trendsetters. As a result, demand for Dickies crosses generational and socio-economic boundaries, whether found in the closet of a musician, construction worker, nurse, college student or weekend warrior, to name a few.

Historically, Dickies has managed creative advertising in-house, developing memorable and targeted efforts like the long-running "Legend In Work" and current "Wear With Purpose" brand campaigns. The announcement allows Dickies' in-house creative art department to focus more strategically on the company's retail marketing goals for the future.

Dickies chose to align with one of the strongest, industry-leading advertising agencies in order to best communicate their unparalleled position within the marketplace as the brand expands globally to reach a broadening consumer base ranging from work to after work apparel customers.

Leave your Comments
Recommended
Want to know what happened in the textile world this week? Watch now!
news category
---
Related Categories: