Hanesbrands to enter 2010 with top-line momentum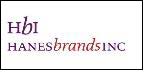 Hanesbrands Inc., one of the world's largest apparel essentials companies, announced that it has secured significant net retail shelf-space and distribution gains that are expected to add approximately 5 percent sales growth in 2010.

The company expects the sales growth based on current shelf-space and program gains that significantly outnumber space and program losses, even if consumer spending patterns continue at today's recessionary levels.

Hanesbrands is using its brand strength and low-cost global supply chain as a growth platform to increase market share over time and expand distribution. The company is generating net space gains through continued marketing investment and new-product innovation, through distribution of core product lines to a broader set of retailers, and through the value of its strong national brands to retailers during the recession and beyond.

"Our goal during this recession was to continue to invest in our brands, support our retailers and emerge as a stronger company focused on increasing market share," Hanesbrands Chairman and Chief Executive Officer Richard A. Noll said. "We have some of the strongest brands in the apparel industry, and we will enter 2010 with top-line momentum. For example, we expect at least high-single-digit growth of men's underwear sales in 2010 solely as a result of net space gains for our Hanes brand at all major accounts and new distribution in the mid-tier, club-store and dollar-store channels."

Hanesbrands' 2010 sales-growth expectation of approximately 5 percent pertains only to growth from shelf-space and distribution gains and is not dependent on increased consumer spending. In early 2010, Hanesbrands will provide its expectations for total 2010 net sales growth based on the space gains, point-of-sale trends for the holiday period, the outlook for the consumer climate in 2010, and other factors.

The incremental net space gains are concentrated in the company's Innerwear and Outerwear segments and will more than offset the expected losses in the Hosiery segment.

The Innerwear segment, which consists of replenishment-oriented products, will account for more than half of the expected sales increases from space gains in 2010. Innovative products such as Hanes underwear T-shirts with lay-flat collars, dyed underwear briefs, and briefs with ComfortSoft waistbands will support the expected men's underwear sales growth from space gains of high single digits or better.

The company expects net space gains for the Innerwear segment's intimate apparel category to add mid-single-digit sales growth next year. Bra program expansions have been confirmed at most major accounts involving the company's Bali, Playtex, Hanes and Barely There brands, and Hanes women's panties are gaining space and new distribution at major accounts.

The remainder of Innerwear segment, which includes socks, children's underwear and other products, has had space gains and losses that generally offset each other or could provide low-single-digit growth.