Lack of choice at affordable prices inspires 'The Loot'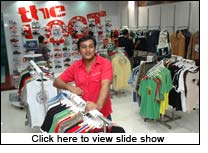 'The Loot', India's largest multi brand discount store has added yet another feather to its cap by achieving the milestone of setting up 100 franchisee showrooms and in the process, also reached a store count of 140 outlets and is well on its way to achieving its targeted objective of setting up 200 stores by March 2010.

At a time when most other apparel retailers were scaling down expansion plans or downsizing their store count and operations, 'The Loot' was one of the few which never looked back and kept its expansion plans intact. It has scaled up its store strength from just 75 outlets in June 2009 to 140 in November.

At the start of the year, 'The Loot' bagged 5 major awards for its excellence in the retail world and is known to be a true-blue example of entrepreneurship. Keeping with the winning spree, 'The Loot; was recently felicitated with the prestigious TiE & Lumis Partners Entrepreneurial Excellence Award.

Fibre2fashion spoke exclusively to Mr Jay Gupta, Managing Director and the visionary behind the success story of the 'The Loot" and asked him to share with us and our readers the challenges, tribulations and the strategy employed to reach the 140 store milestone from the day he conceptualized "The Loot".

He said, "The love for business started very early in life for me and it was during my early years in DR Graham's School (Kalimpong-Darjeeling) that I revealed my interest in business as I always wanted to start my own business and succeed in it. In 1996, post my graduation from S.I.E.S. College in Mumbai; I started my pursuit of setting up a thriving business.

"It was a known factor to me that garments and footwear was the business I wanted to venture into and in 1996, I stumbled upon an article in a magazine which stated – Chain of Hotels, Banks and Retail as ever growing profitable businesses, so I opted for retail initially so that I could to get into the garment and footwear business.

"To start the journey, I started franchisee stores for brands like Colour Plus, Adidas, Nike, Weekender, Provogue etc. but soon realized that I wasn't going to be able to give the best to the customers and during this period a lot of consumers complained about lack of choice at affordable prices as customers wanted to buy inspirational brands at affordable prices.

"That is when I realized what needed to be done in order to run a successful business. I wanted to bridge the gap in-between consumers' want for brands and unwillingness to pay for it and that's when I opened my first 'The Loot' store – a store that had the best brands in the country at real low costs, all under one roof.

"Initially not many brands wanted to be a part of 'The Loot' due to the concept, but later on when brands started seeing the success of my concept they started approaching us directly and 'The Loot' can thus be considered as the pioneer of multi branded discount stores in the country. At any given point of time a consumer can find a discount of minimum 25% and a maximum of 60% at the store.